" International solidarity is not an either-or story, where we either invest in our own society or in people in need in the rest of the world. Nor is international solidarity a matter of charity. It is simply common sense. By empowering people globally, we empower people here at home. When we invest in international solidarity, we invest in everyone's future. "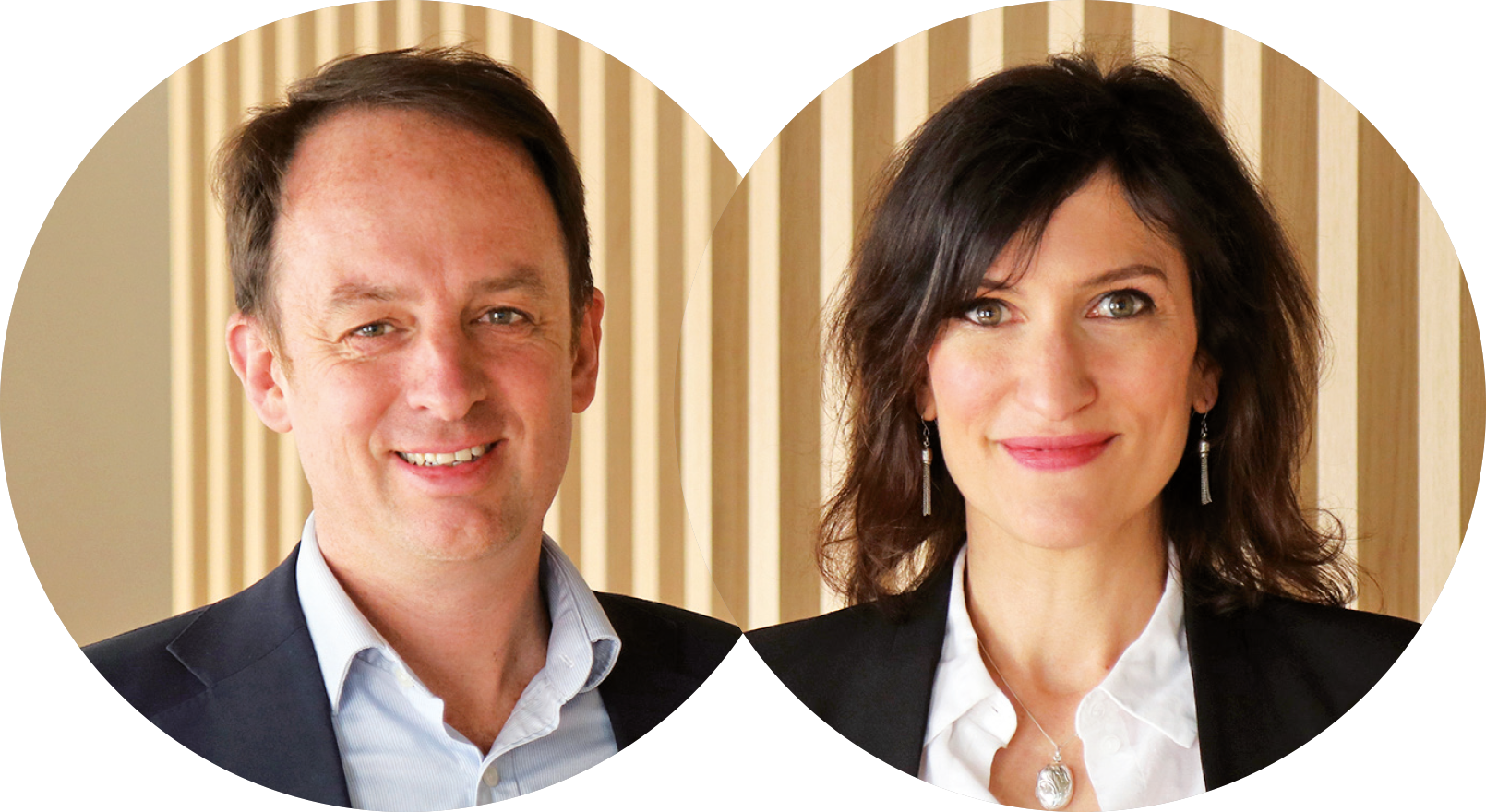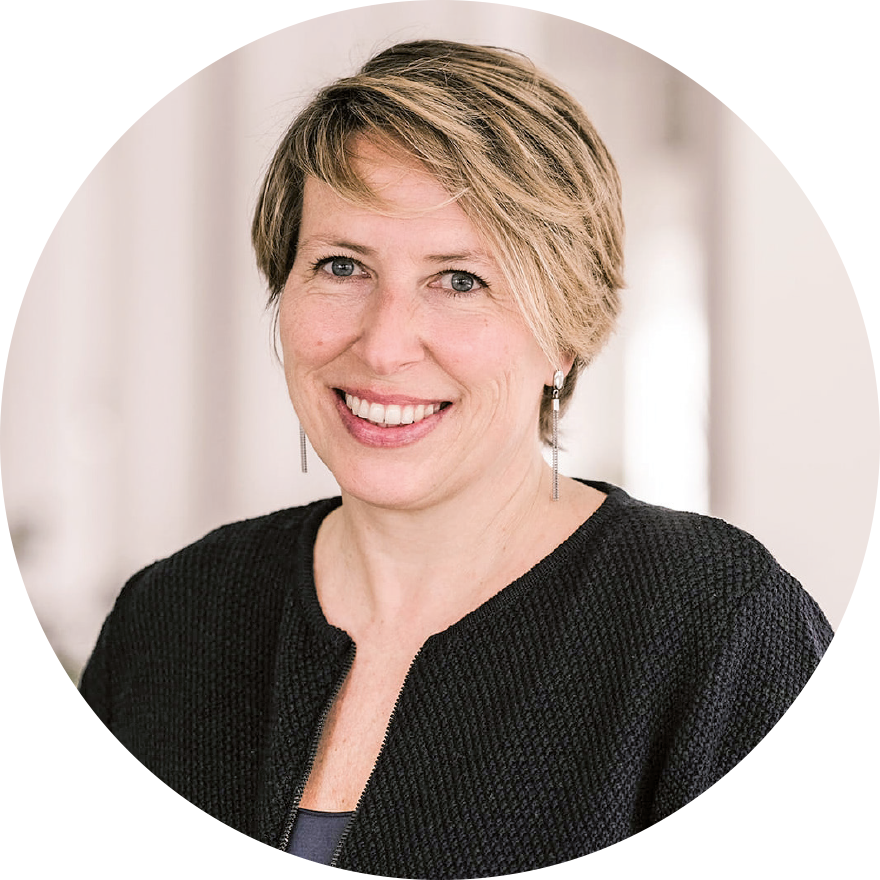 " The development of the African continent is an extraordinary opportunity for Europe and the world. In this context, our cooperation model needs to be completely transformed, and we are proud of Enabel's recent changes in strategy and attitude in that regard. "
Young people
at work
Young people shape the societies they are part of. They grab the opportunities they are given and do amazing, inspiring and sometimes moving things with them. Having access to a stable job is an important prerequisite to take up that role. Together with our partners, we strive to make this a reality.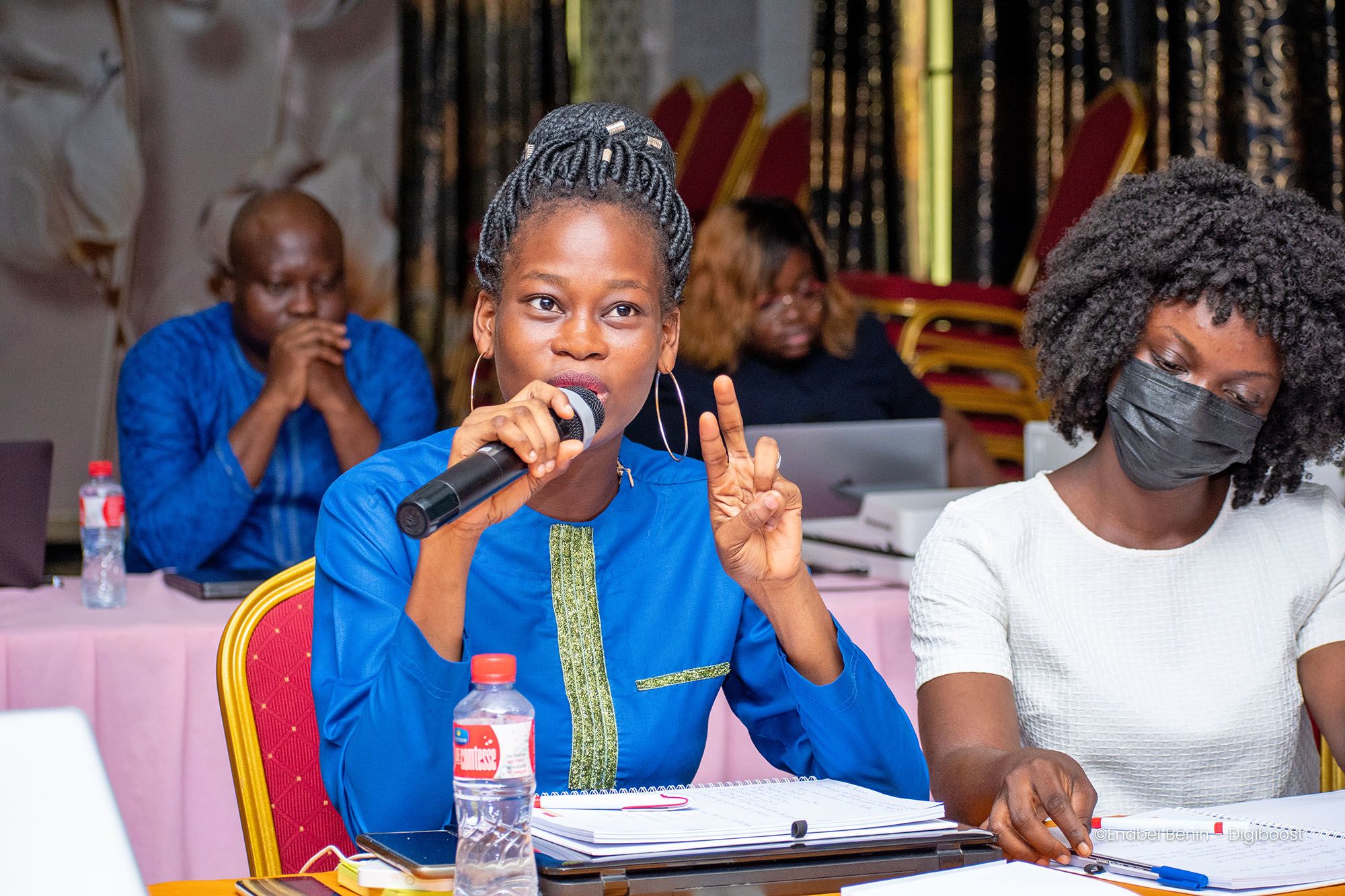 Bridging the gap to the labour market
In DR Congo, we work to break down social barriers through the EU-funded project RESICODI, which is aimed at strengthening resilience against COVID through digitalisation. In Kinshasa, we refurbished an IT classroom and we organised a one-week coding training in collaboration with Kinshasa Digital Academy to give young people better perspectives on the labour market.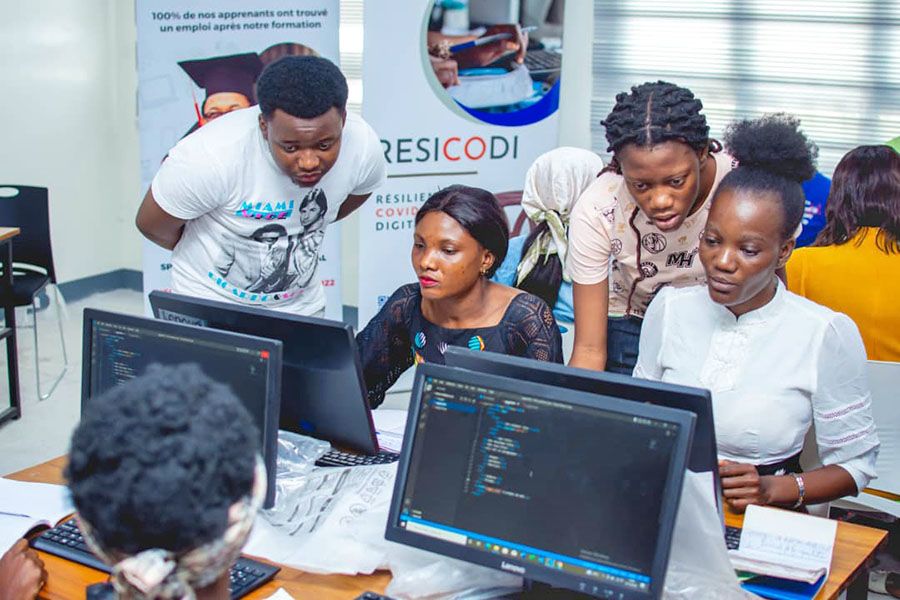 Unemployment in Palestine is skyrocketing. Young people have a hard time finding a decent job.
That's why we work with the Ministry of Labour to support Palestinian youth in gaining economic autonomy through tailored skills training in fields as diverse as fashion design, wood carving, informatics, or automotive maintenance.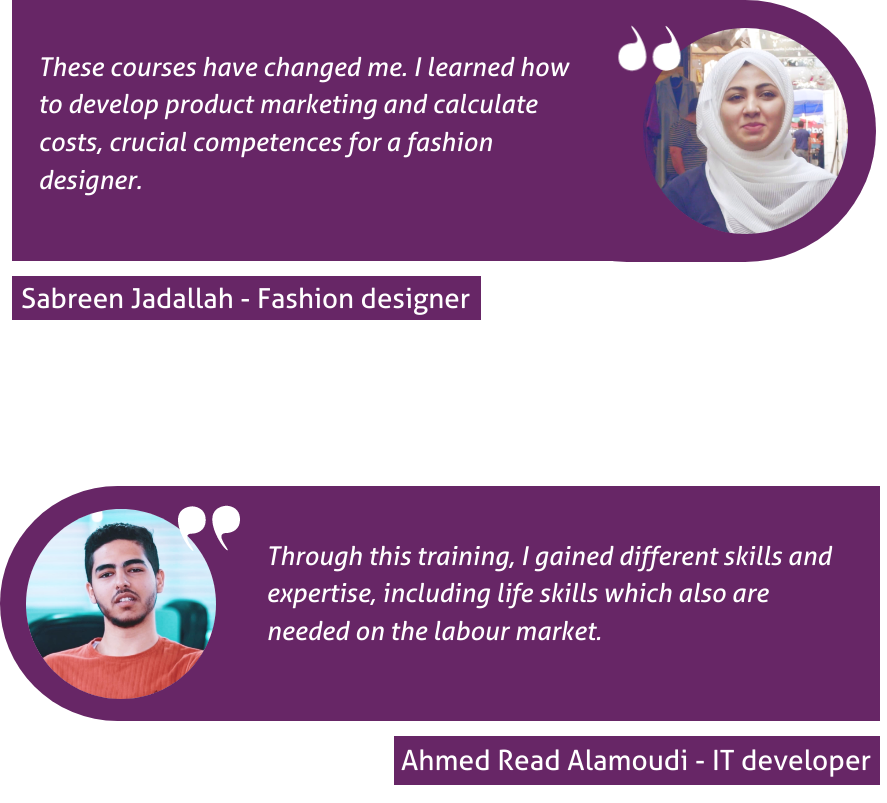 Full steam ahead in Uganda
Hanifah is a young woman from Hoima in Uganda. After following skills training facilitated by Enabel, she became a bulldozer operator. With her salary, she bought a plot of land and a poultry farm.
"I'm trying to look at the way forward to continue, for a better life."
Hanifah is one of the +12,000 youth trained through the project. Of those, 7 out of 10 found employment six months after completing the training.
Building resilience to climate change
Countries and communities actively develop adaptation solutions to respond to current and future climate change impacts. Different countries see diverse opportunities: from biogas and hydropower plants to agroecological techniques…the options are manifold.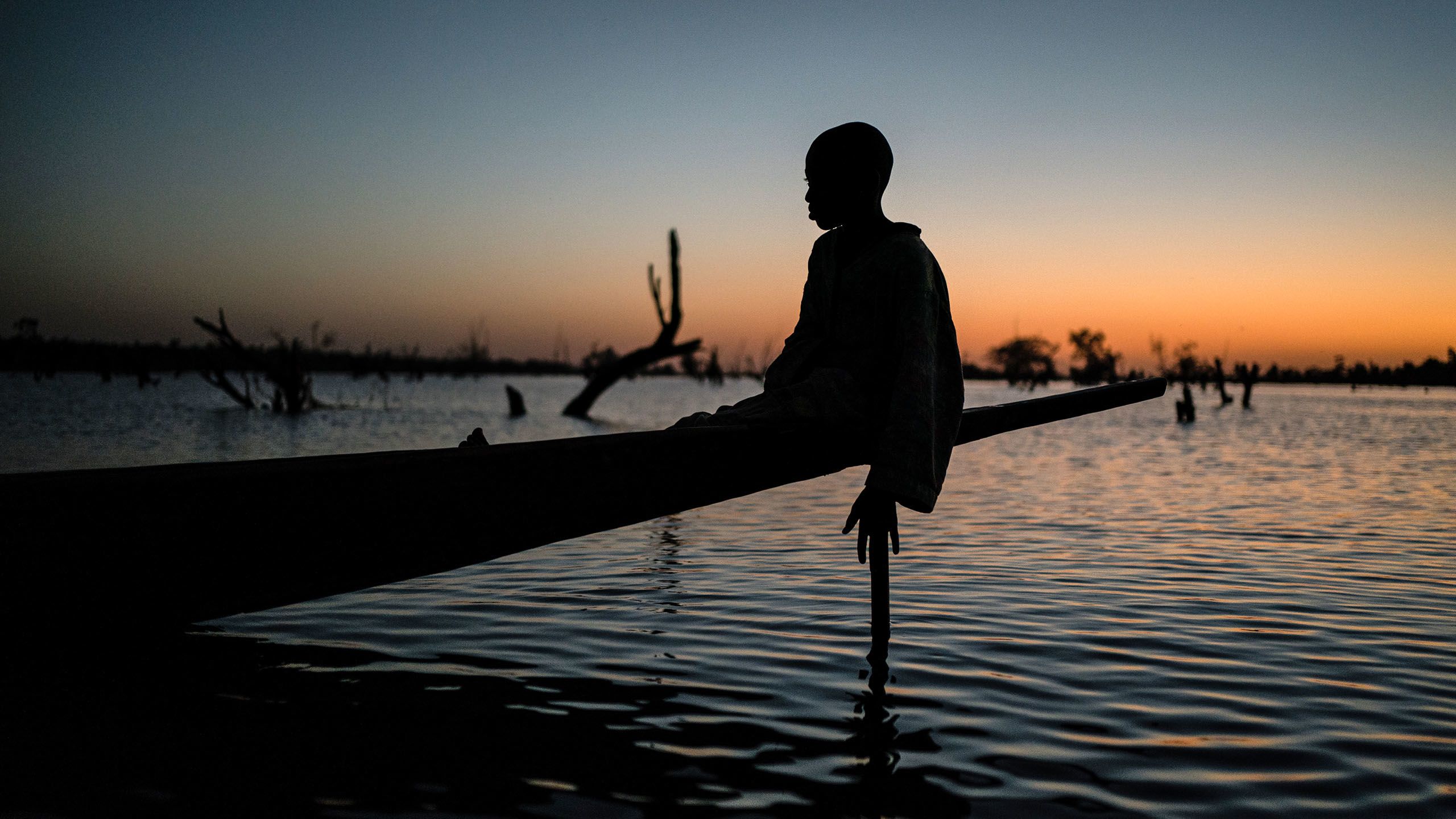 Digitalisation and innovation to develop hydropower in Mozambique
The Mozambican government's ambition is clear: by 2030, all Mozambican households should have access to sustainable and affordable electricity. In 2019, however, the counter stood at only 29.6%. Yet, the country has lots of potential for renewable energy, with significant prospects for hydroelectric and solar power. Enabel is assisting the government in seeking solutions to best study the feasibility of hydropower projects.
Together with FUNAE, the National Energy Fund in Mozambique, we have identified 3 solutions: geographical information systems (GIS), which analyse new potential locations for hydropower; drones, which can map in detail areas that can be very difficult to access and measure; river flow measurements with the help of local communities.
Domestic biogas in Niger
In Niger, more than 90% of households use wood as fuel for cooking. Moreover, the country has an economy that is largely based on agriculture and livestock. However, this primary sector remains vulnerable and the country is experiencing the full impact of climate change: torrential rains and flooding, droughts, rising temperatures, etc. Combined with poor environmental practices, this leads to severe soil and vegetation degradation and the continued advance of desertification.
Enabel is experimenting with the production of domestic biogas with 10 agropastoralist households in the villages of Nawdéo and Rounto Tanda in the Dosso region.
"With biogas we could reduce our fuelwood needs by some 40%. That makes life easier as we have more time now,"
Besides the positive impact on the environment, the use of biogas also impacts school attendance as children, who usually are the ones who have to fetch wood, now have time to attend school.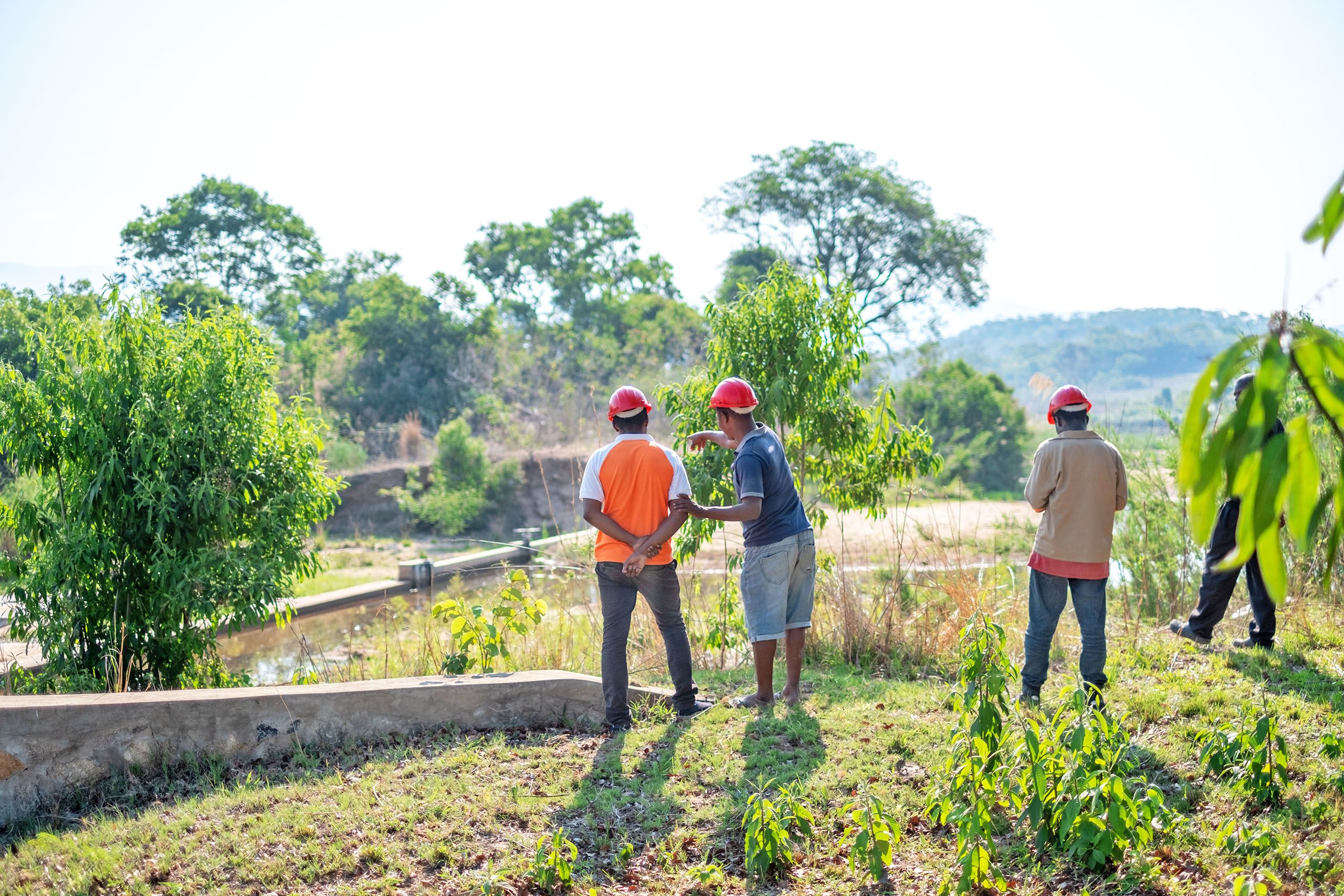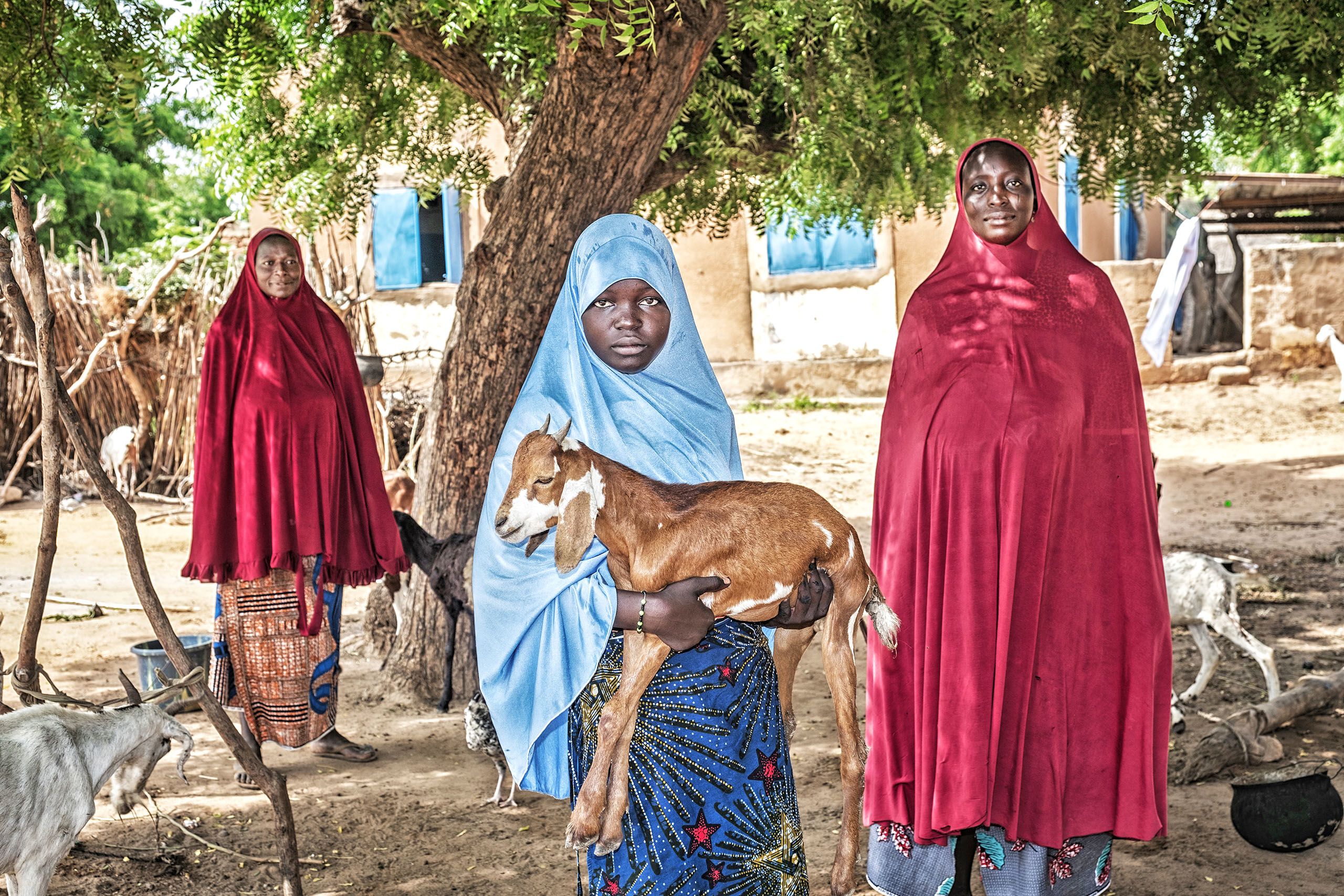 Rethinking sustainable agriculture in Rwanda
Have you ever heard of black soldier flies? The potential they offer to livestock farmers is huge. Together with Veterinarians without Borders and the University of Ghent, we develop black soldier fly farms to feed chickens and pigs. The fly larvae can replace soy and fish meal, which are more expensive.
This alternative gives a competitive advantage to farmers, who spend less money to feed their animals, and is environmentally friendly, as soy requires a huge amount of land to cultivate.
The principle is simple, but the impact is great.
COP27: Sahel youth want to participate in setting the Climate Agenda
Eight young people from Burkina Faso, Niger, Mali and Senegal took part in the Climate Summit in Egypt, where they testified on what climate change means to them.
"Young people, and certainly those who are vulnerable, are paying a heavy price for the consequences of climate change. It is important that we make our voices heard at this climate summit, because natural resources are limited and our future is at stake"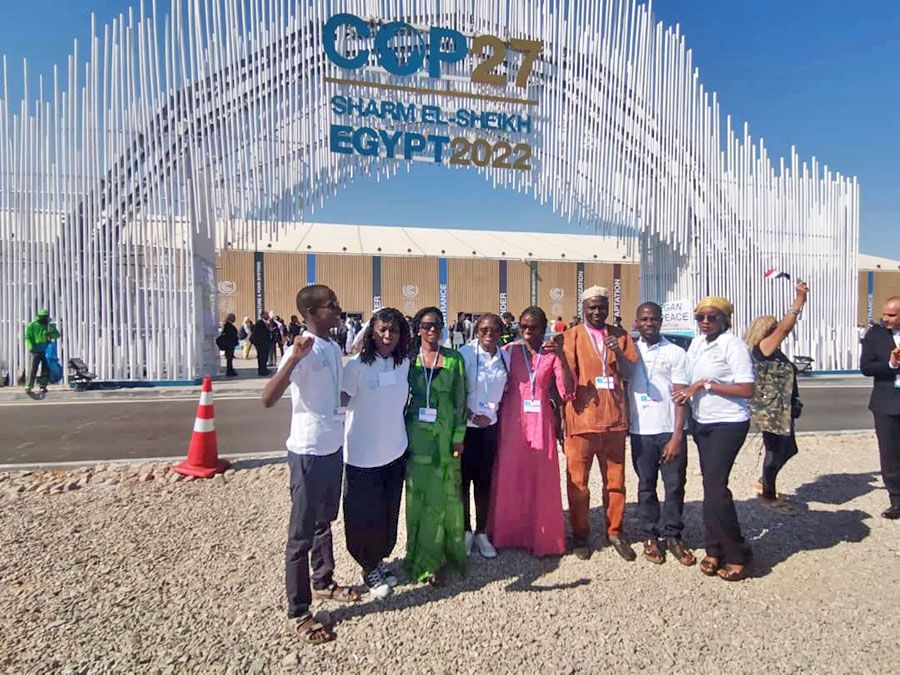 Entrepreneurship
The main goal of Enabel's work with the private sector is to foster inclusive growth. Growth in which women, young people and vulnerable groups participate, but also growth that respects the environment and decent work standards.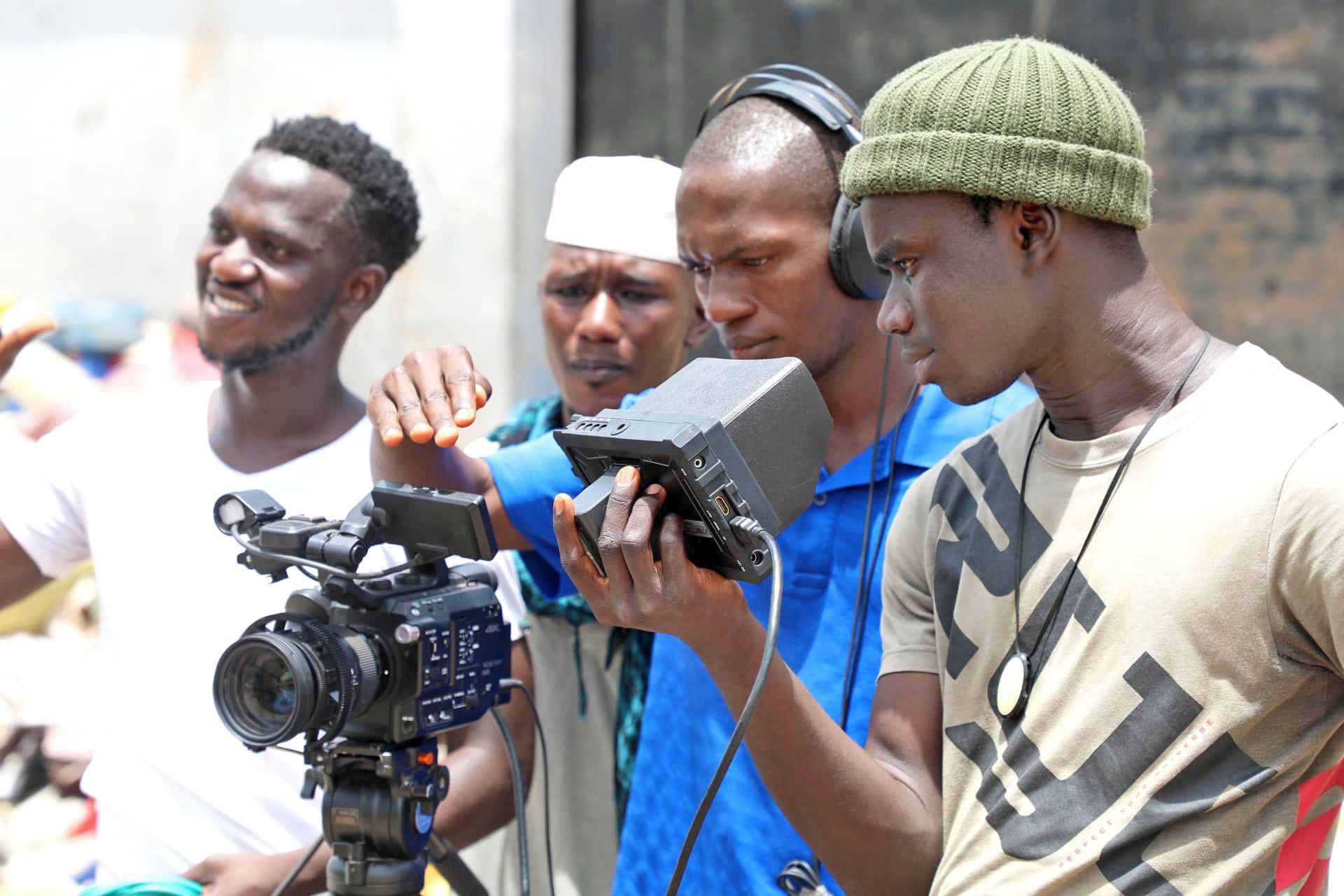 Women at the forefront of entrepreneurship
At the initiative of Belgium's Minister of Development Cooperation and Major Cities, Enabel launched the Awa Prize. With this award, Belgium aims to reward promising initiatives by women entrepreneurs in Africa and the Middle East and promote women's leadership.
The four winners come from Morocco, Mali, Rwanda and Burundi. They were awarded their prize at the official ceremony in the presence of Her Majesty Queen Mathilde and Minister of Development Cooperation and Major Cities Caroline Gennez.
By promoting promising women entrepreneurs as role models, the Awa Prize aims to demystify women's entrepreneurship. The award aims to show to both men and women that entrepreneurship can be synonymous with social success, personal development and positive effects on communities.
The winners receive professional coaching, including networking opportunities and personal competence development, during a one-week stay in Belgium. To further grow their business, they are also professionally coached for one year in their country.
Empowering women, from Benin to Morocco
In Benin, we support the professionalisation of pineapple producers, to ensure sustainable development of the sector. We pay specific attention to empowering women producers and reducing the difficulties surrounding their businesses.
It is the case of Christiane Gbedji, who now knows how to keep a cash book, manage her pineapple farm budget and obtain microfinance to expand her business. Together with her husband, she now sees a brighter future for their farm. More than 650 women have already followed the same path.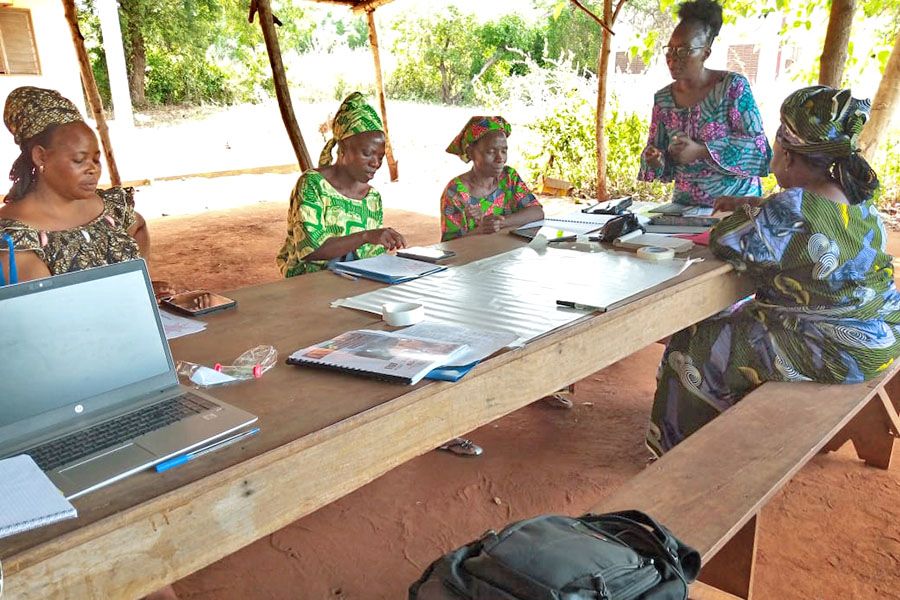 In Morocco's Souss-Massa region, the Tiguisselt cooperative is a real stepping stone for women entrepreneurs and a driver for local economic growth. The cooperative provides two types of services: social initiatives (such as the distribution of Ramadan baskets and clothes) and palm groves maintenance services (such as field clearing, clump cleaning, and harvesting).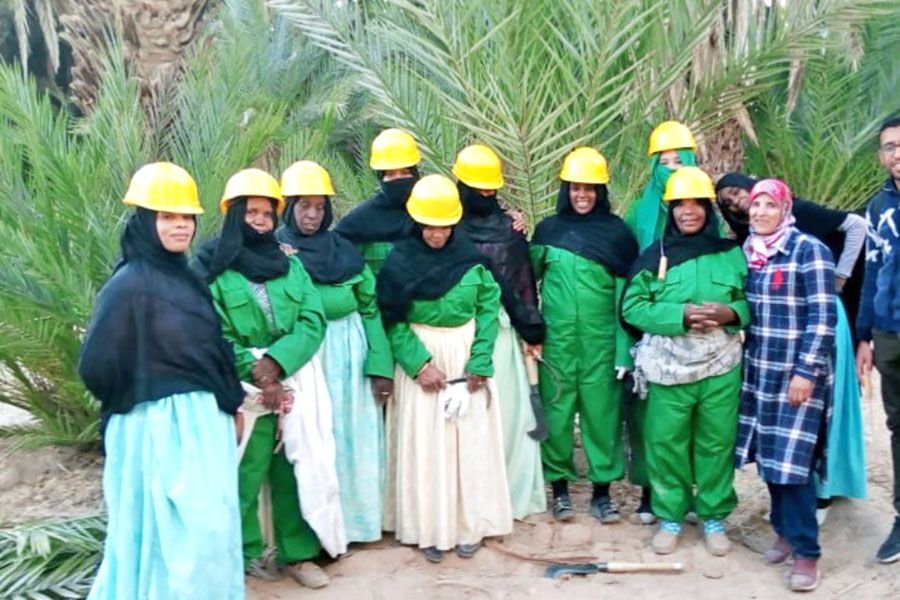 For its president, Sarah Siouad, the biggest success of the cooperative is that its members have been empowered:
I notice that women are more assertive than before. They take part in training courses, go to see the administrations. [...] The mentality is changing. Entrepreneurship is becoming more accessible to women.
Changing the way we think about things
Fixed patterns tend to shape the way we act. But it's good to take a step back now and then and challenge our presumptions. Whether talking about air pollution, a safe living environment for citizens, or urban planning, we partner up with people that invest in social innovation and are not afraid to test out new models.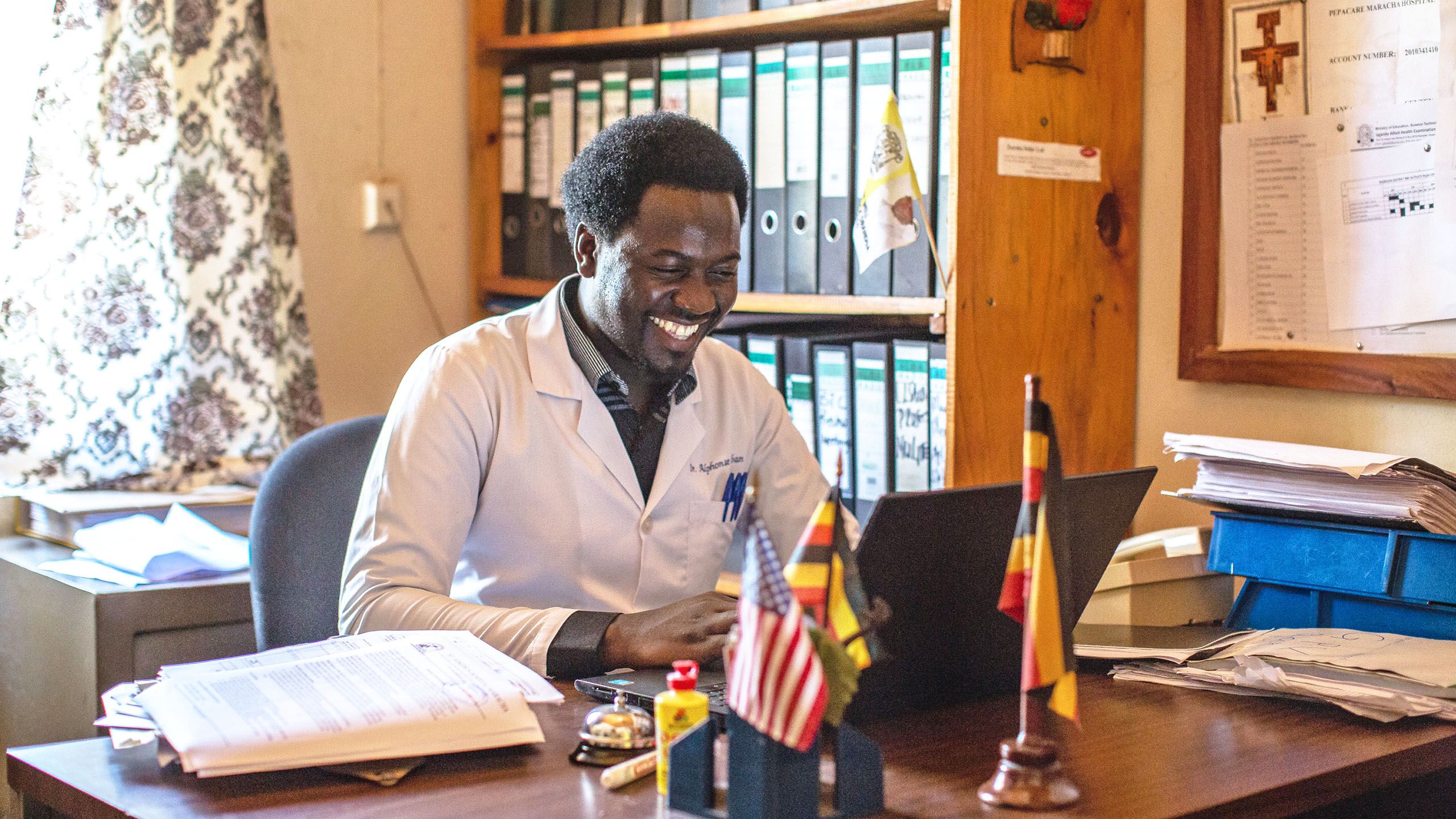 #EnablingTheFuture
In December 2022, Enabel organised the first edition of #EnablingTheFuture in Brussels, which brought together more than 150 social innovators from Africa, the Middle East and Europe, to exchange experience, share knowledge and get inspired.
Although contexts may differ between countries, social innovators are working on solutions to similar challenges: citizen science to combat air pollution, coding programmes to help vulnerable and young people find a job, or ways to support women in their fight against sexual violence. These all transcend borders.
"We need to start listening to the entrepreneurs on the ground."
No development without safety
For the Niger government, it is important that the fight against terrorism be accompanied by development programmes that improve the living conditions of the 260,000 people in the Torodi department and ensure that the state continues to play its role so that people's confidence in public services is strengthened and the economy is stimulated.
That's why Belgium was one of the first countries to adopt a 3D approach, with Belgian Defense, Diplomacy and Development Cooperation working together to provide coherent support.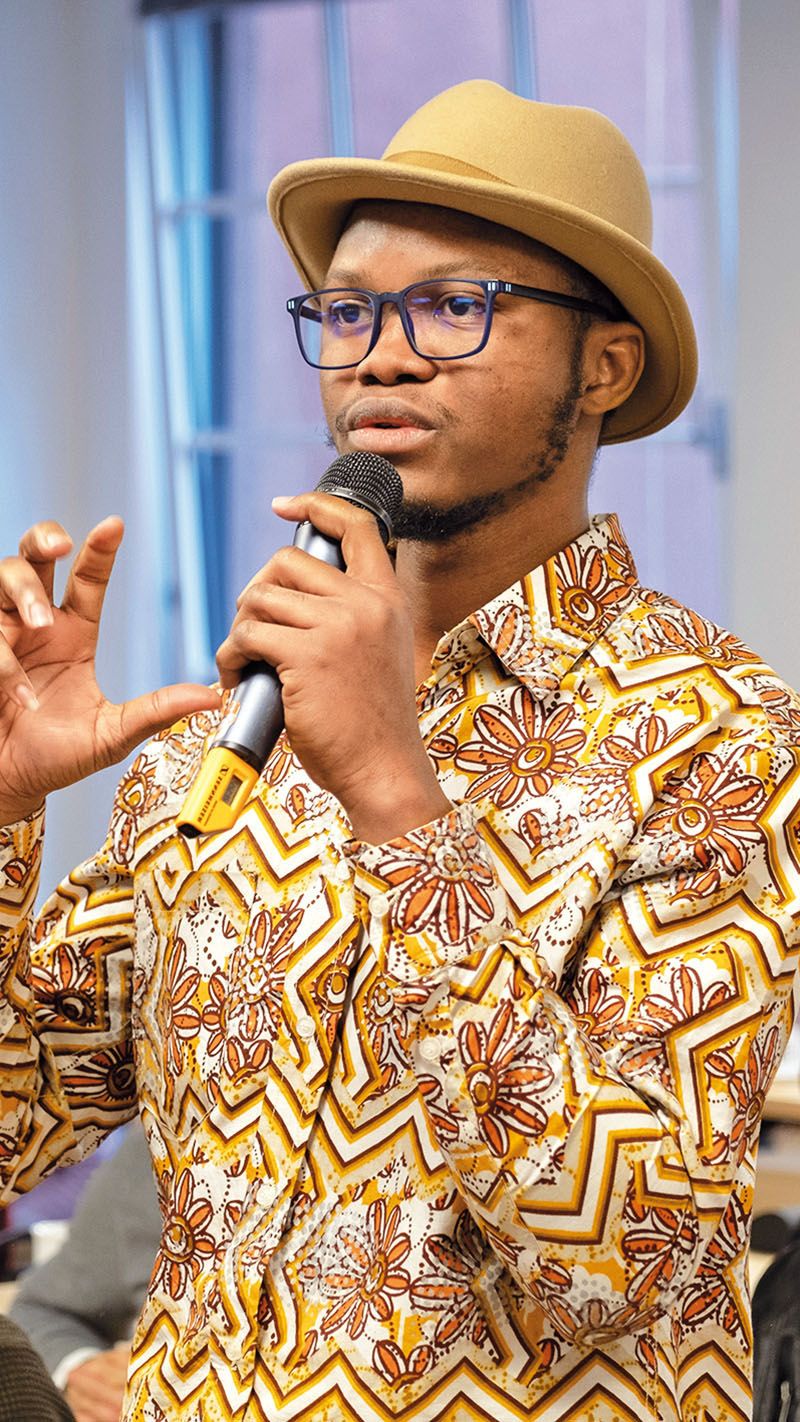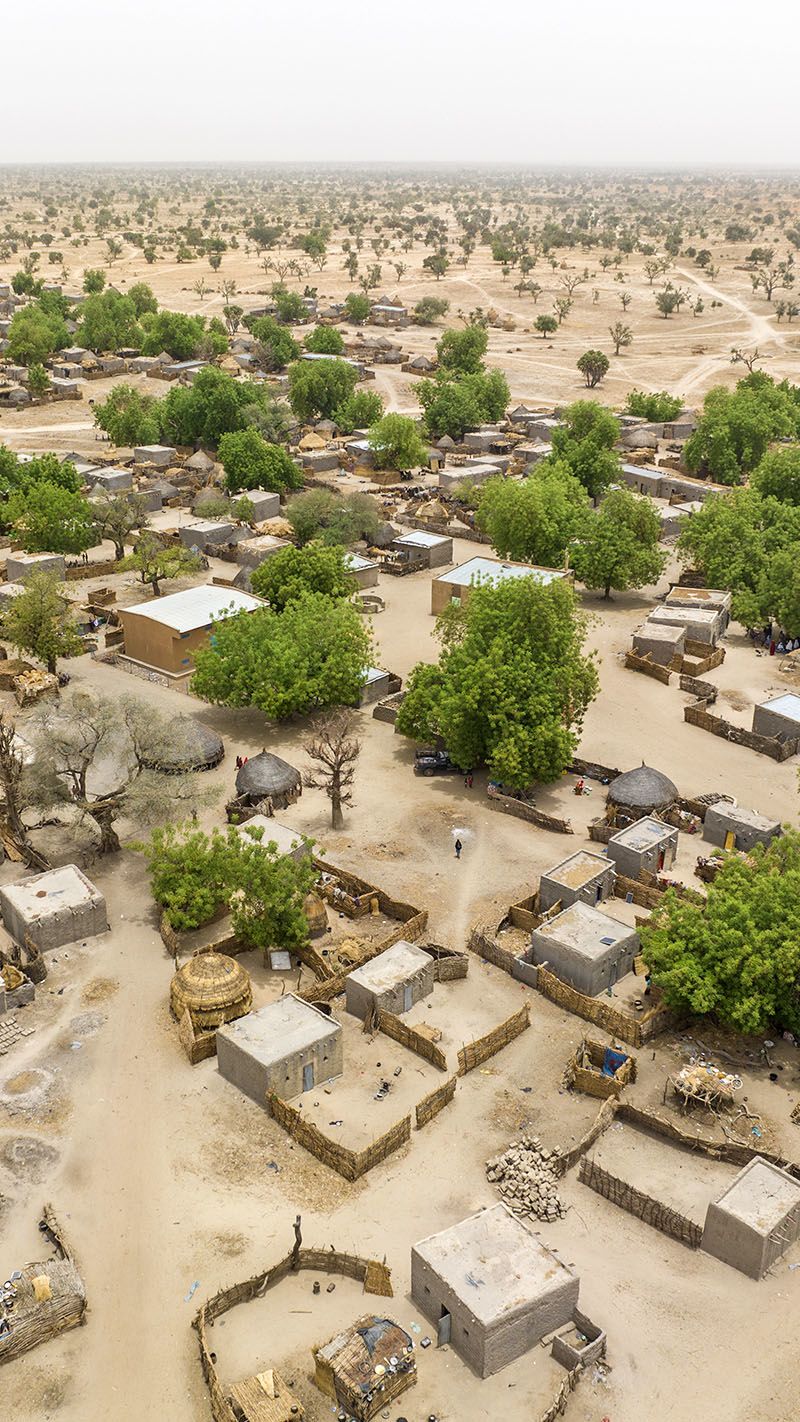 Climate responsive design in East Africa
Public spaces are still too often designed without consulting the people who will use them on a daily basis. That is why Enabel and the University of Rwanda joined forces and organised a forum focused on working with citizens when designing climate-responsive projects.
Participants from Burundi, Kenya, Rwanda, Tanzania and Uganda exchanged experiences and ideas.
Sustainable architecture in Uganda
For many years, sustainable architecture has been one of the means put forward by Enabel and its partners to deal with climate change while improving the comfort of users. Bioclimatic architecture relies on the optimisation of building orientation, shading, natural lighting and ventilation, energy efficiency and rainwater harvesting systems and uses renewable energy and local low carbon materials.
Enabel uses this approach in different countries. In Uganda, it was applied through a programme to build technical and teacher training schools, financed by Belgium and implemented by the Ugandan Ministry of Education and Sports and Enabel.
The project renovated 24 buildings and constructed 8 new facilities, offering an inspiring, safer and more comfortable learning environment for more than 2,000 learners and teachers.
The renovation of the Mubende and Kaliro National Teachers Colleges in central and eastern Uganda respectively was awarded the architecture Public Choice Award at the 2022 Architizer A+ Awards.
Some of our 2022 highlights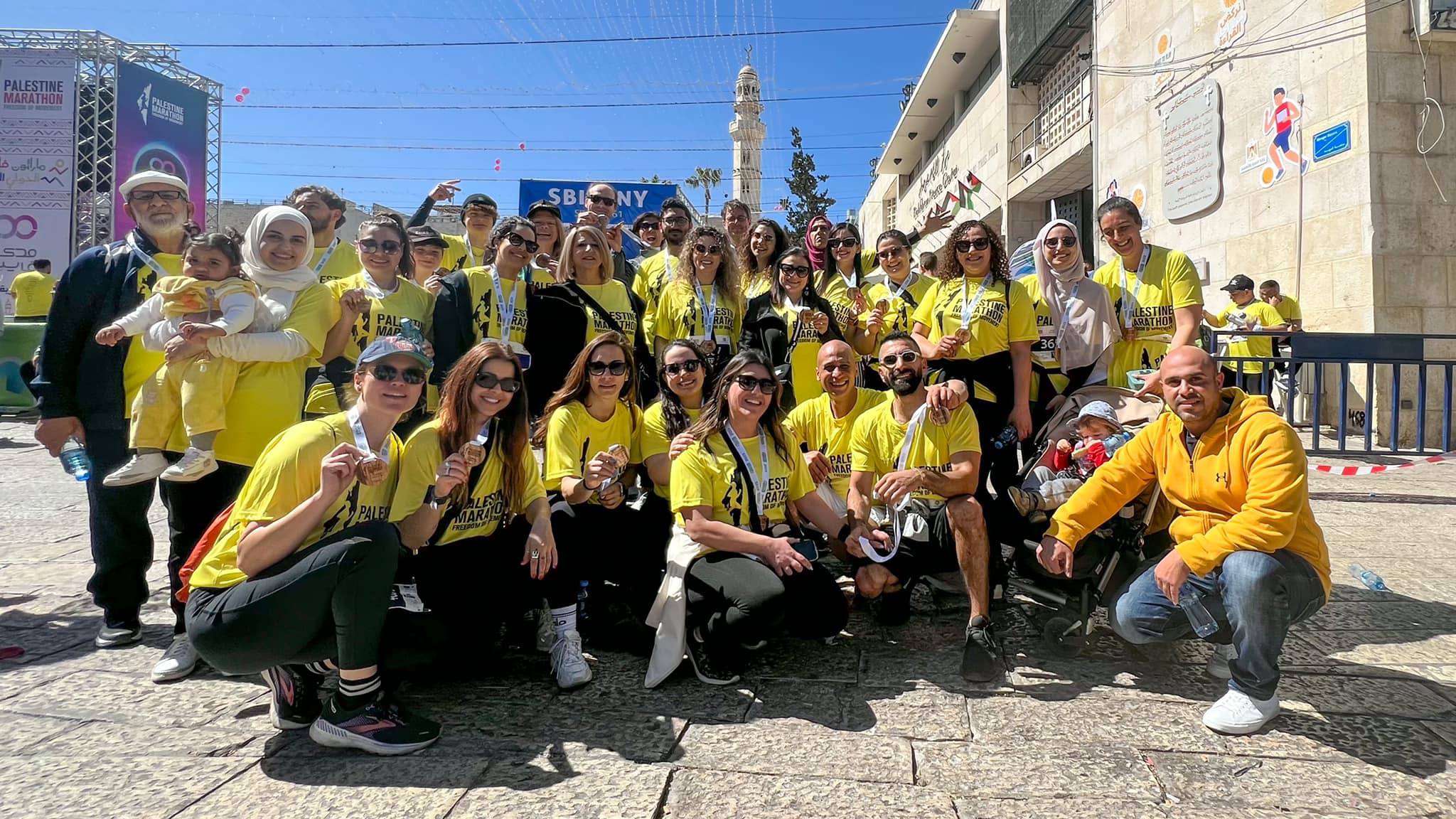 Enabel colleagues and members of the Consulate General of Belgium in Jerusalem during the Bethlehem marathon
Enabel colleagues and members of the Consulate General of Belgium in Jerusalem during the Bethlehem marathon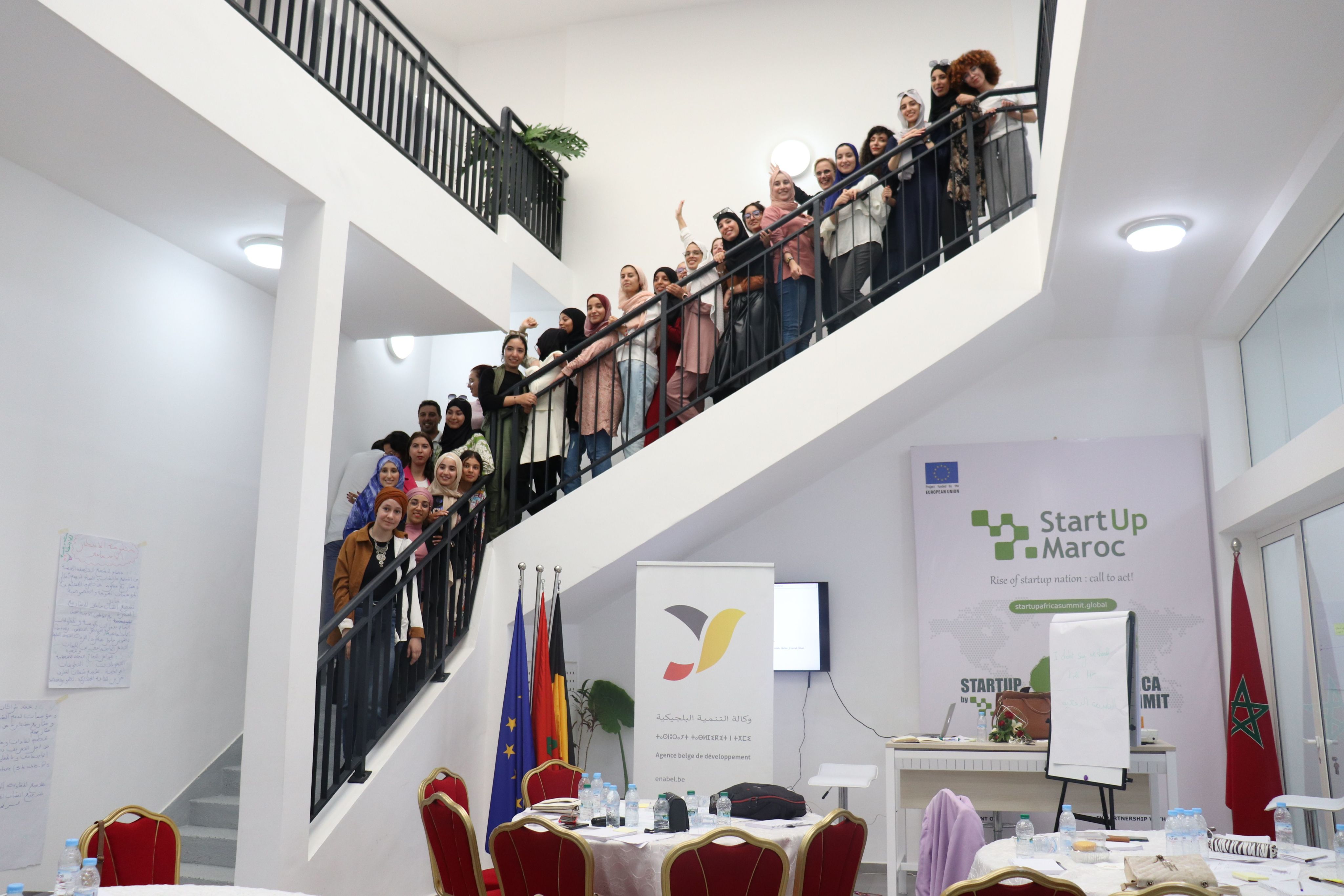 "Connectrices" from the Oriental and Drâa-Tafilalet regions in training
"Connectrices" from the Oriental and Drâa-Tafilalet regions in training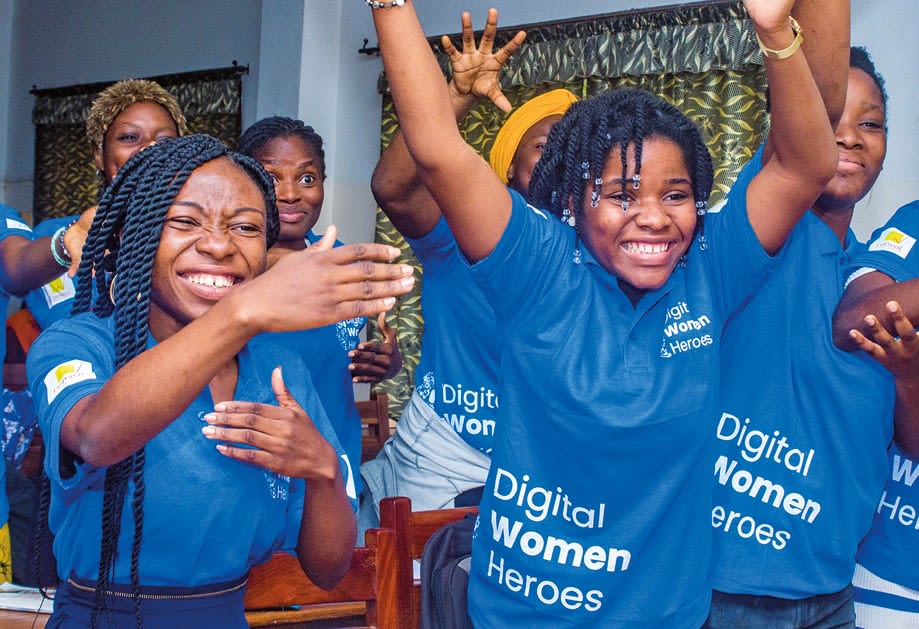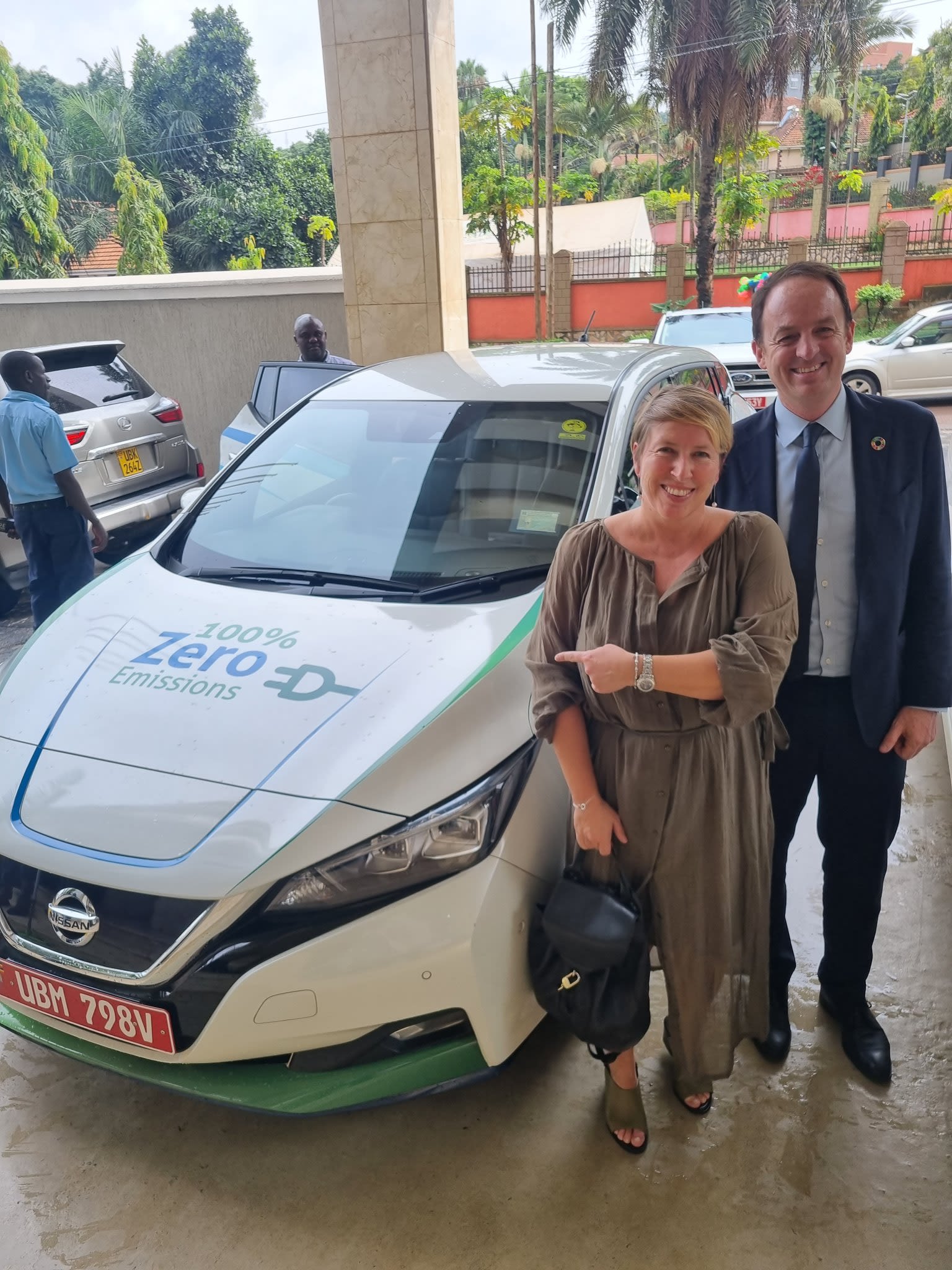 Minister Caroline Gennez and managing director Jean Van Wetter posing in front of our first electric car in Uganda
Minister Caroline Gennez and managing director Jean Van Wetter posing in front of our first electric car in Uganda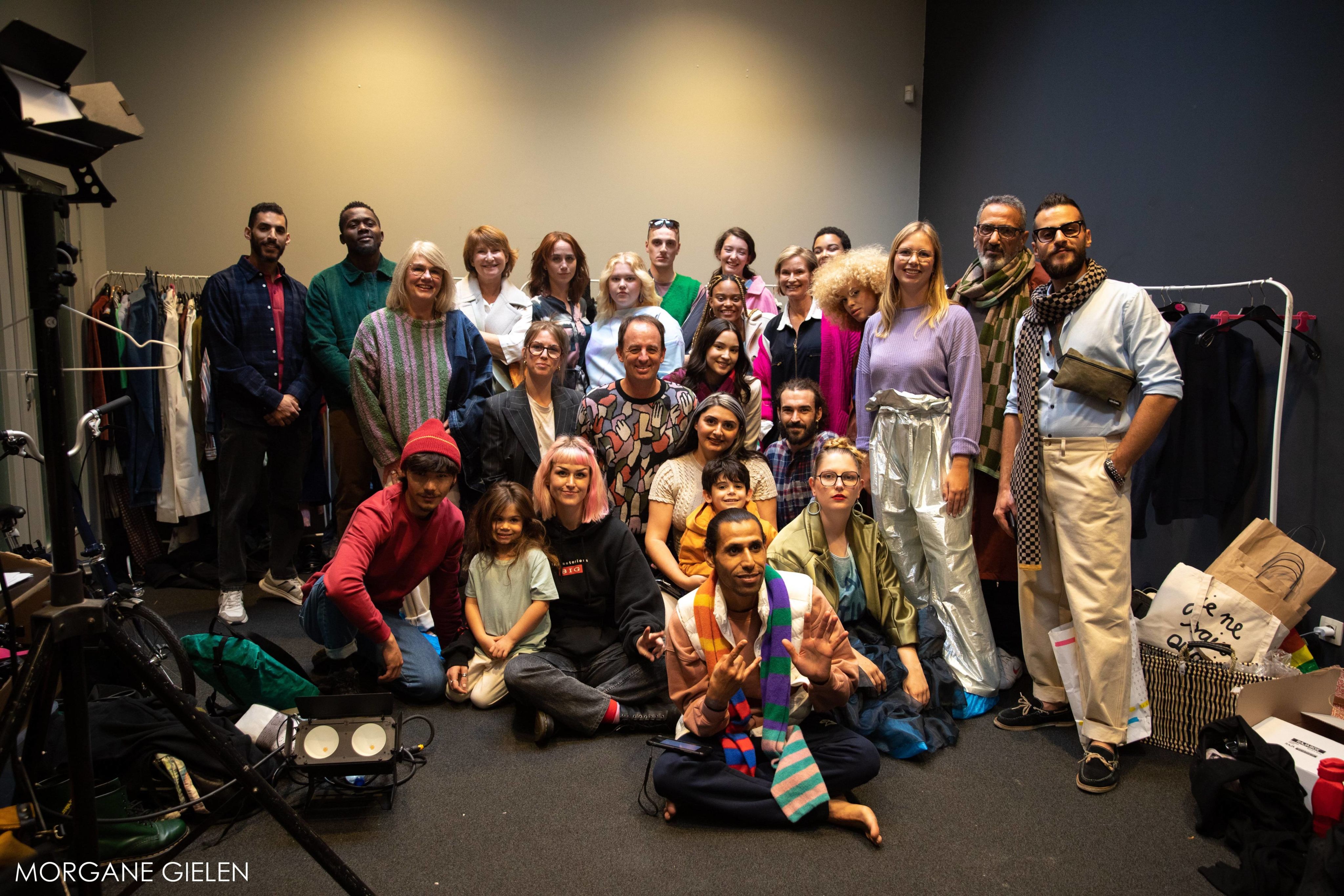 Models at the fair fashion show organised by the Trade for Development Centre
Models at the fair fashion show organised by the Trade for Development Centre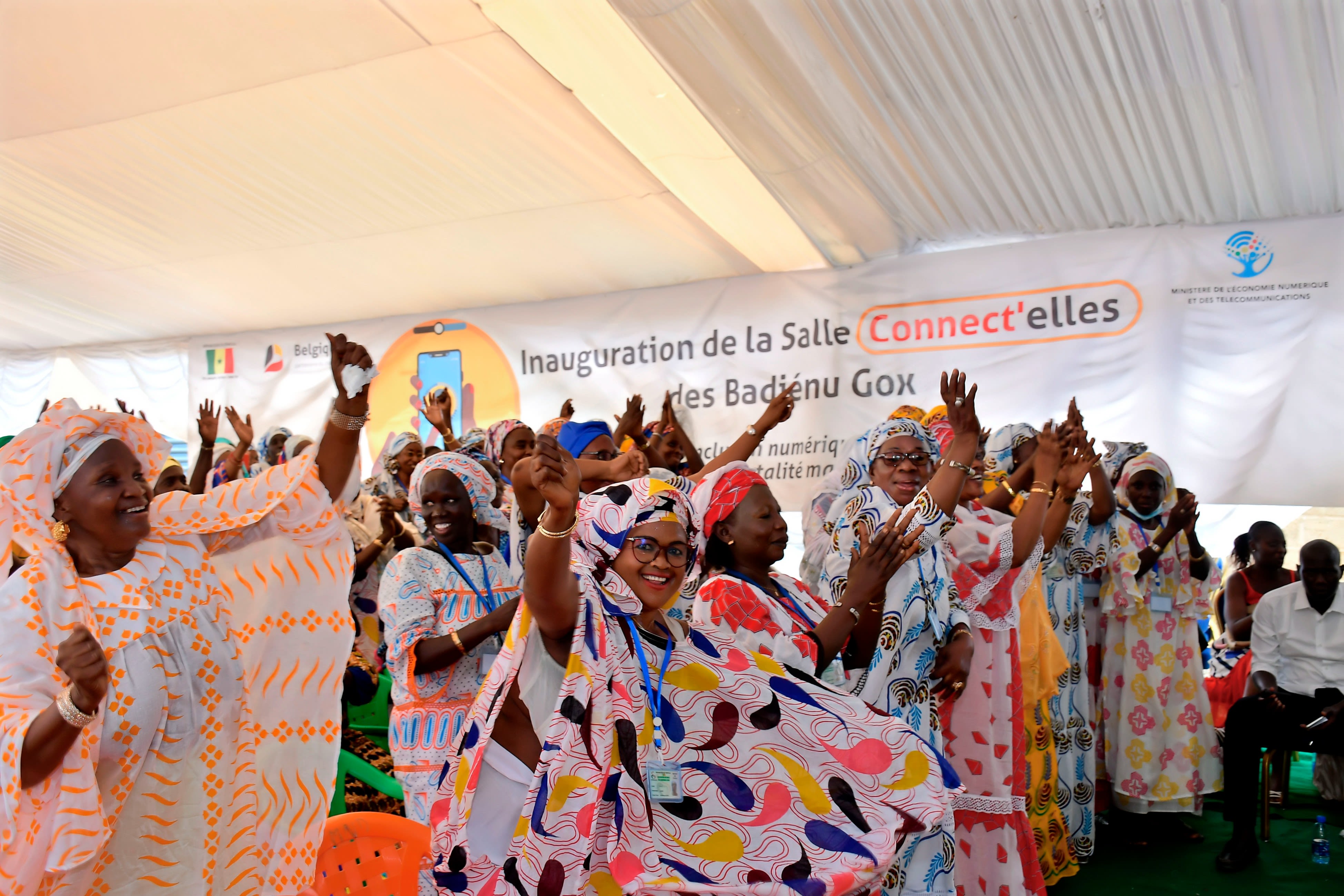 Cheerful community leaders during the inauguration of a digital centre in Senegal
Cheerful community leaders during the inauguration of a digital centre in Senegal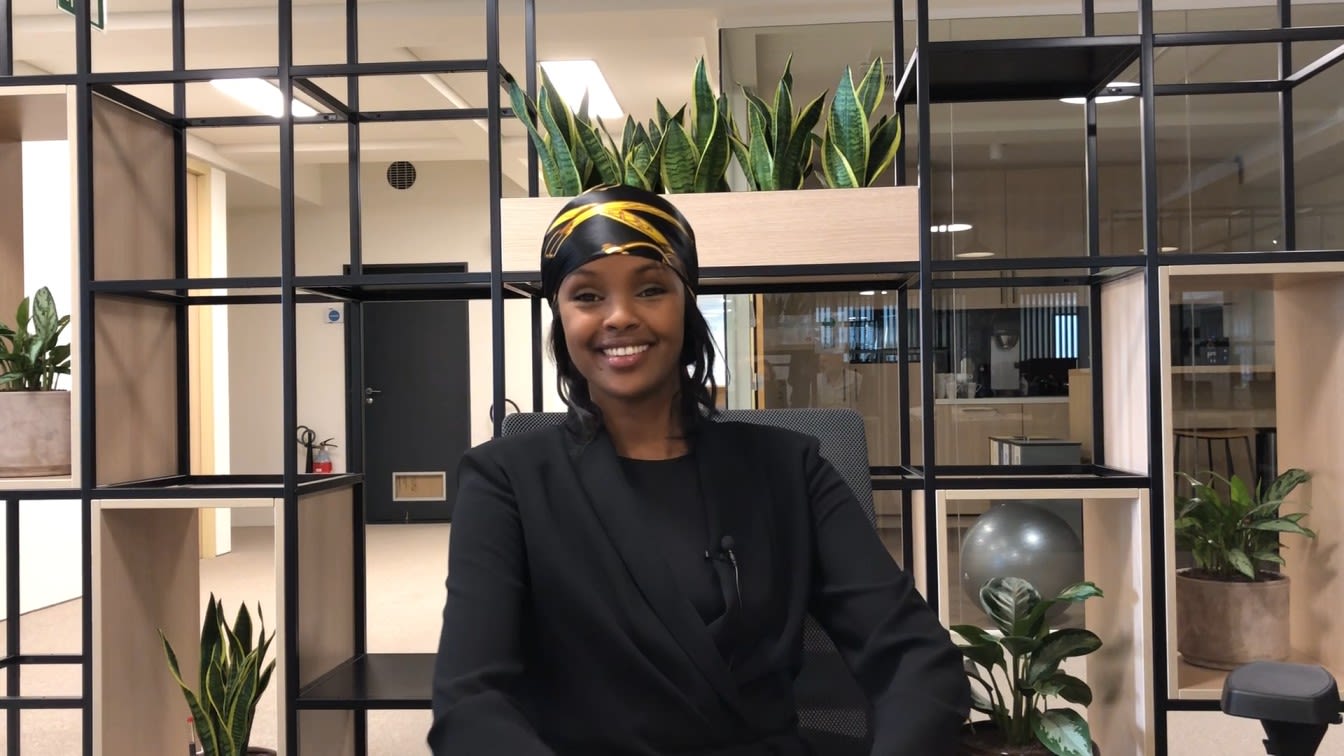 Somali-Canadian social activist Ilwad Elman at Enabel's offices in Brussels
Somali-Canadian social activist Ilwad Elman at Enabel's offices in Brussels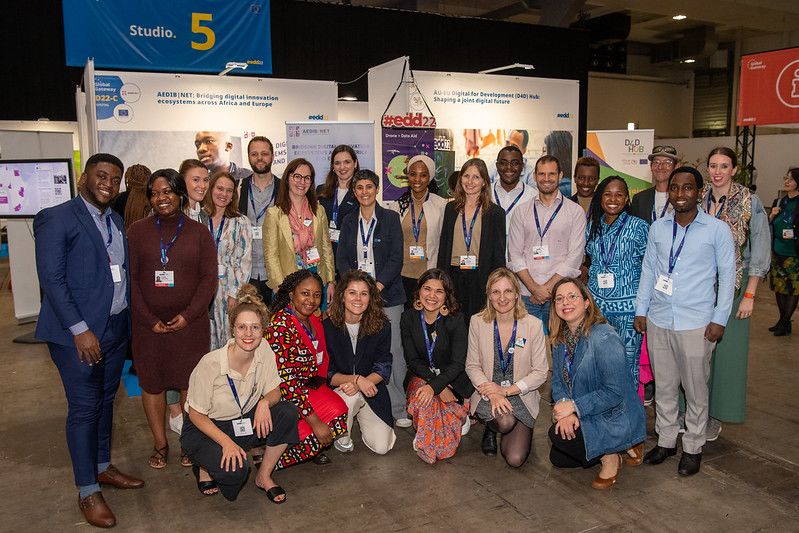 The D4DHub stand at the European Development Days
The D4DHub stand at the European Development Days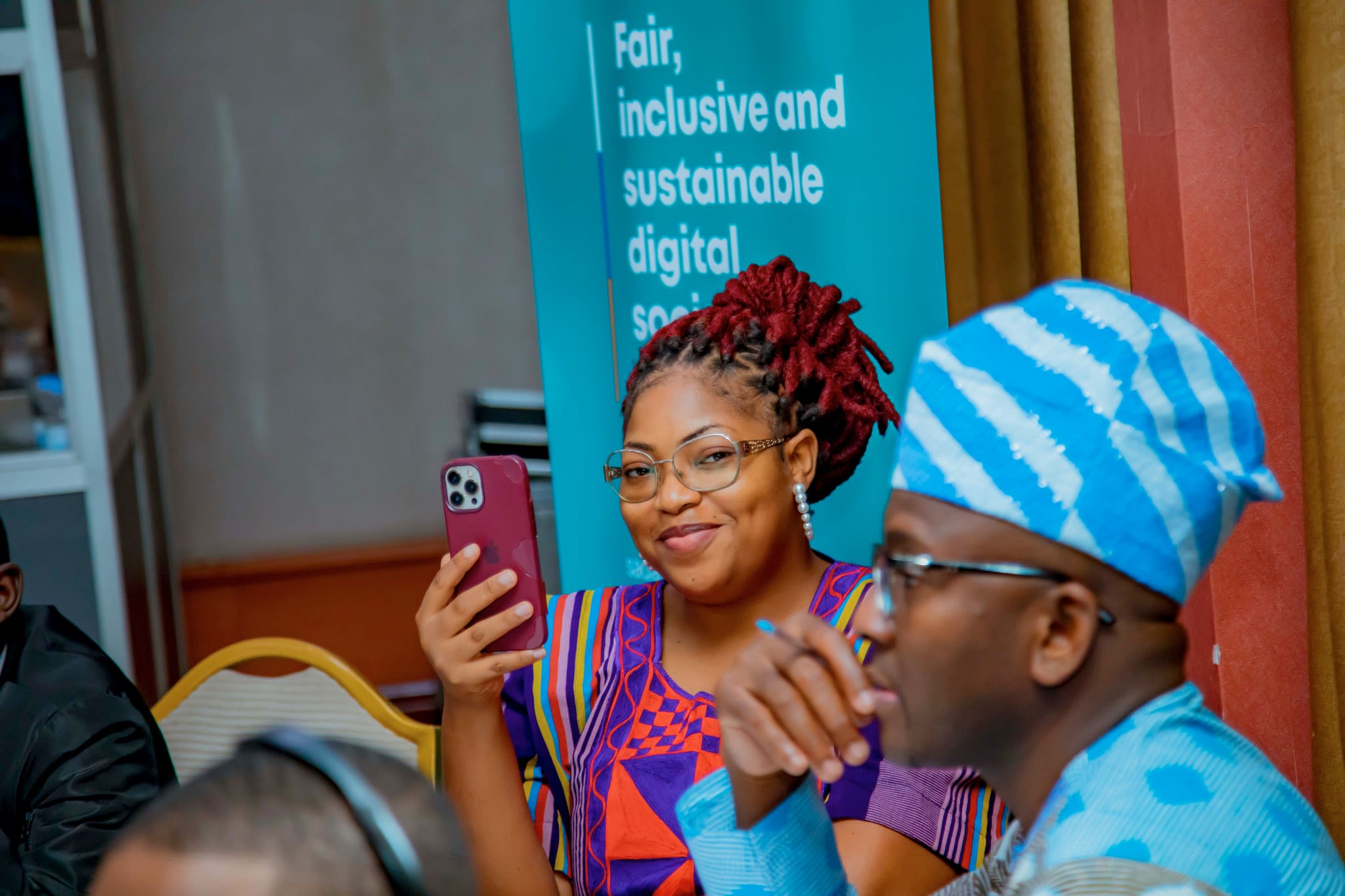 Entrepreneur Ayodélé Ognin in training in Cotonou, Benin
Entrepreneur Ayodélé Ognin in training in Cotonou, Benin
Item 1 of 9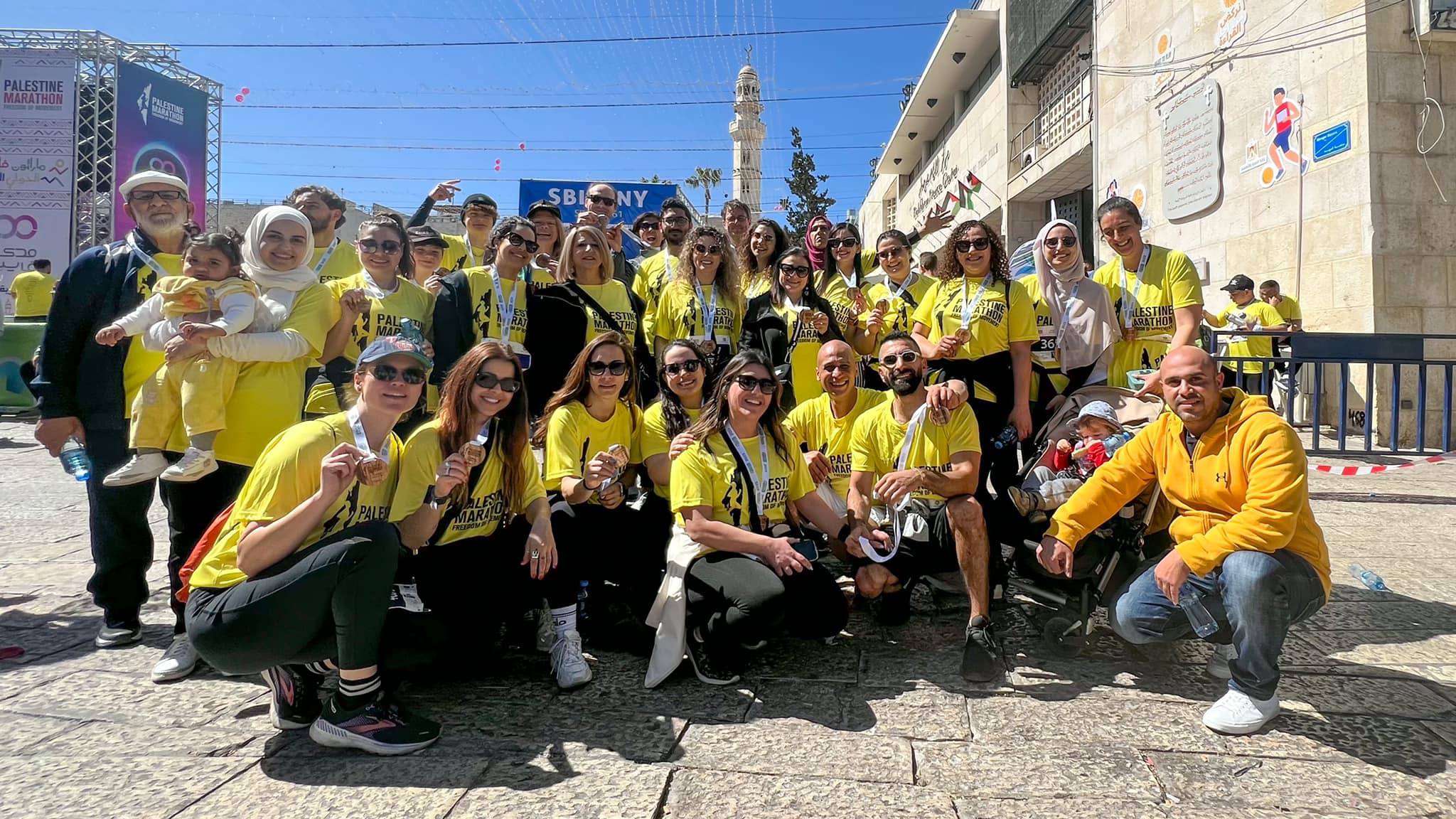 Enabel colleagues and members of the Consulate General of Belgium in Jerusalem during the Bethlehem marathon
Enabel colleagues and members of the Consulate General of Belgium in Jerusalem during the Bethlehem marathon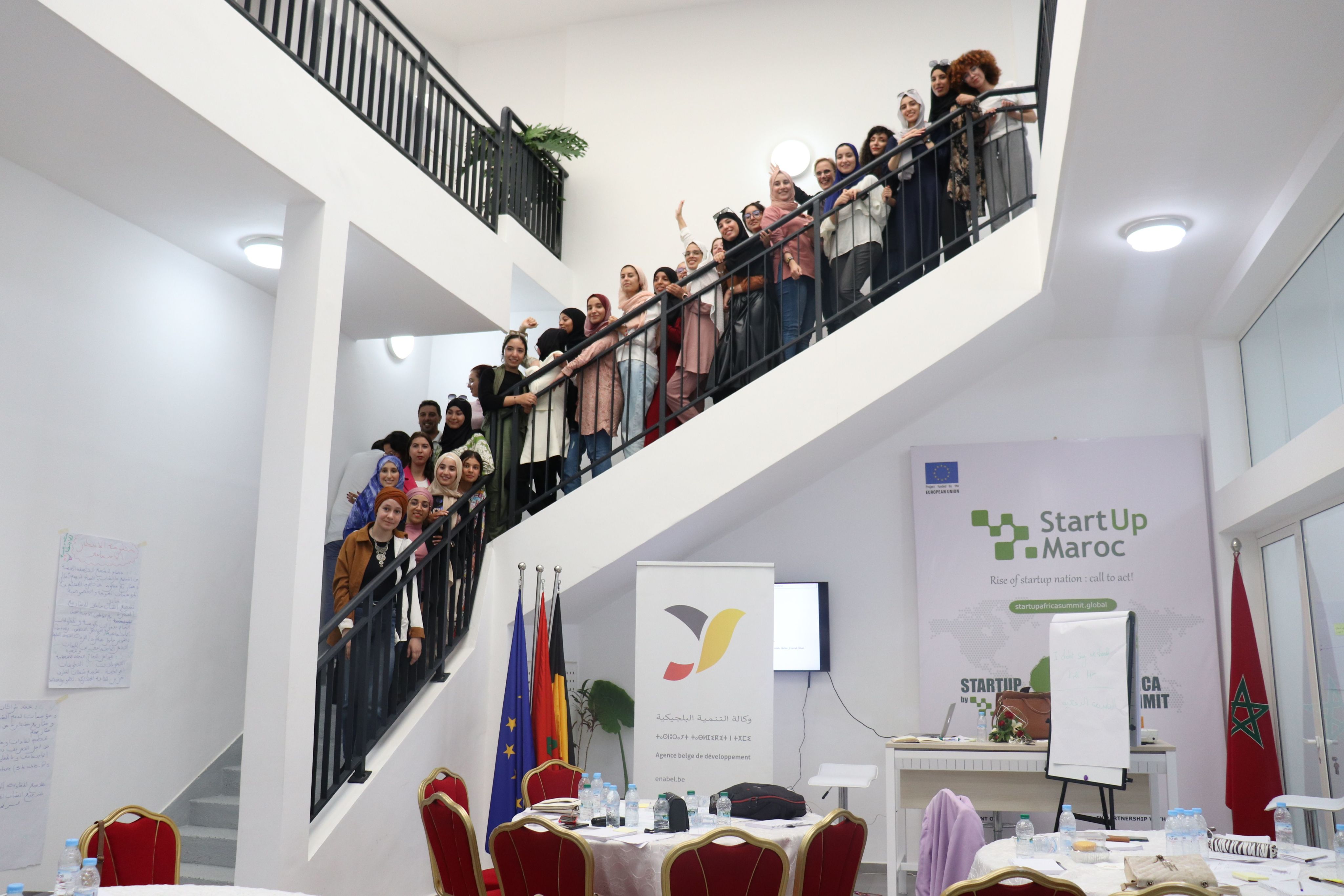 "Connectrices" from the Oriental and Drâa-Tafilalet regions in training
"Connectrices" from the Oriental and Drâa-Tafilalet regions in training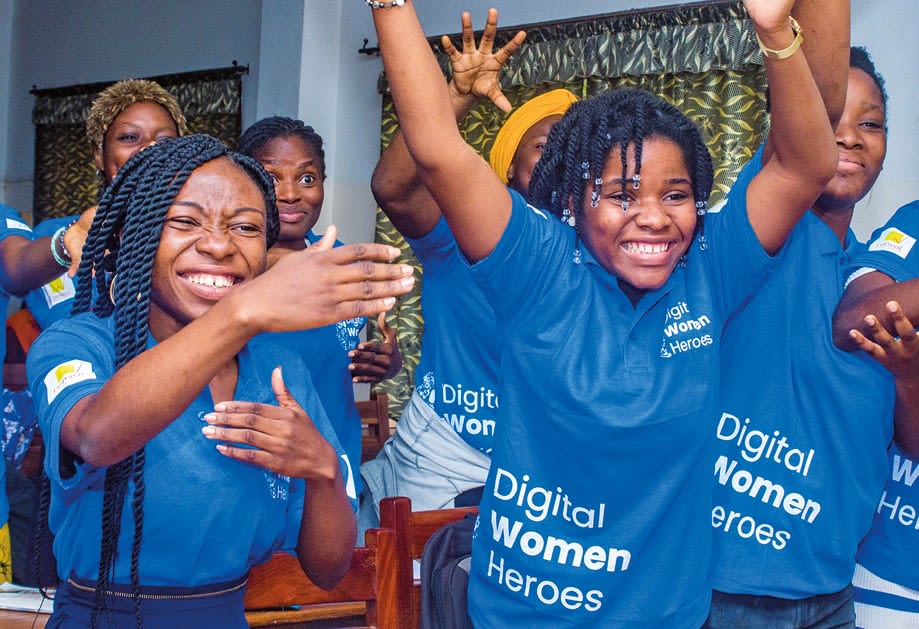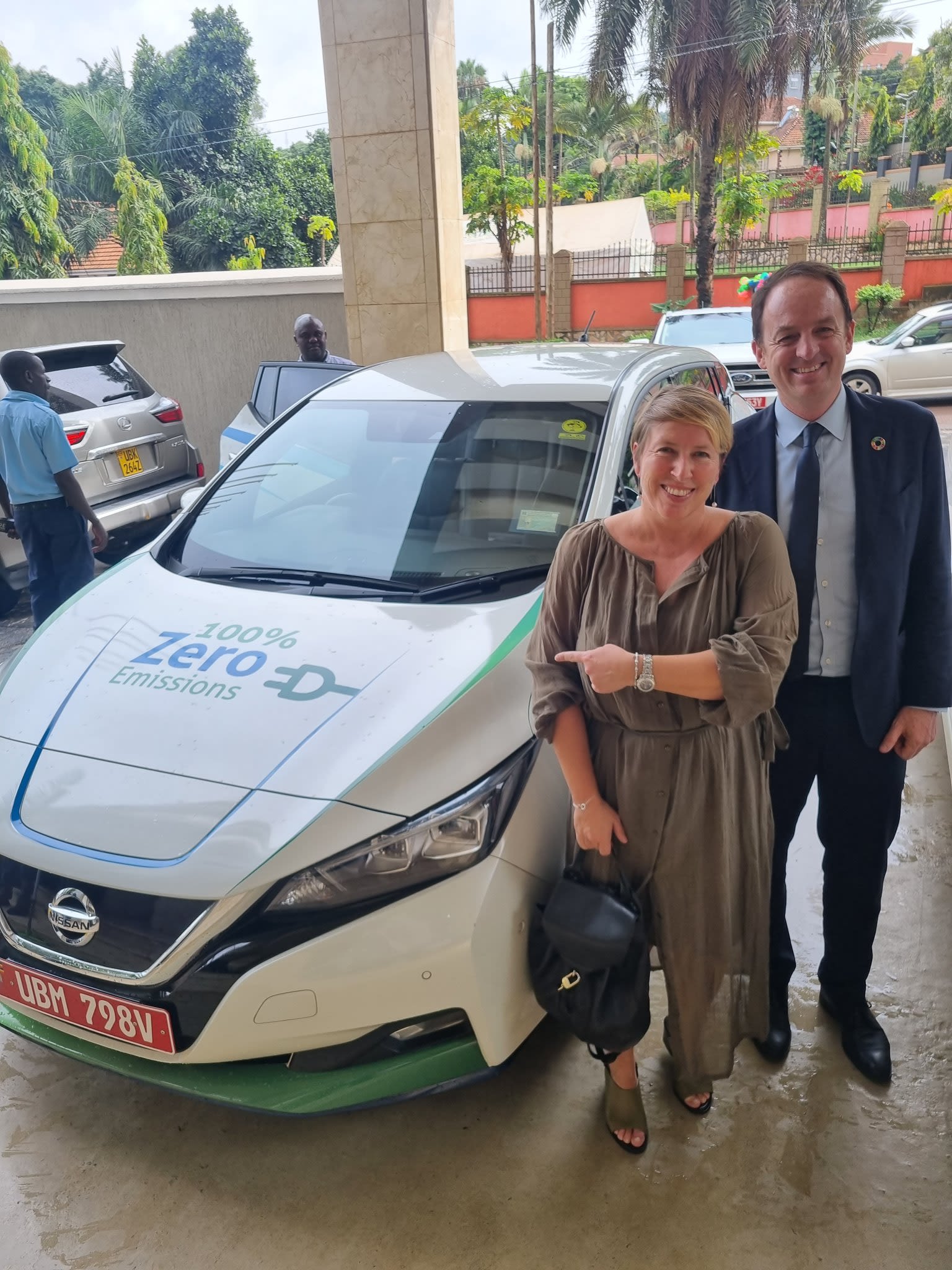 Minister Caroline Gennez and managing director Jean Van Wetter posing in front of our first electric car in Uganda
Minister Caroline Gennez and managing director Jean Van Wetter posing in front of our first electric car in Uganda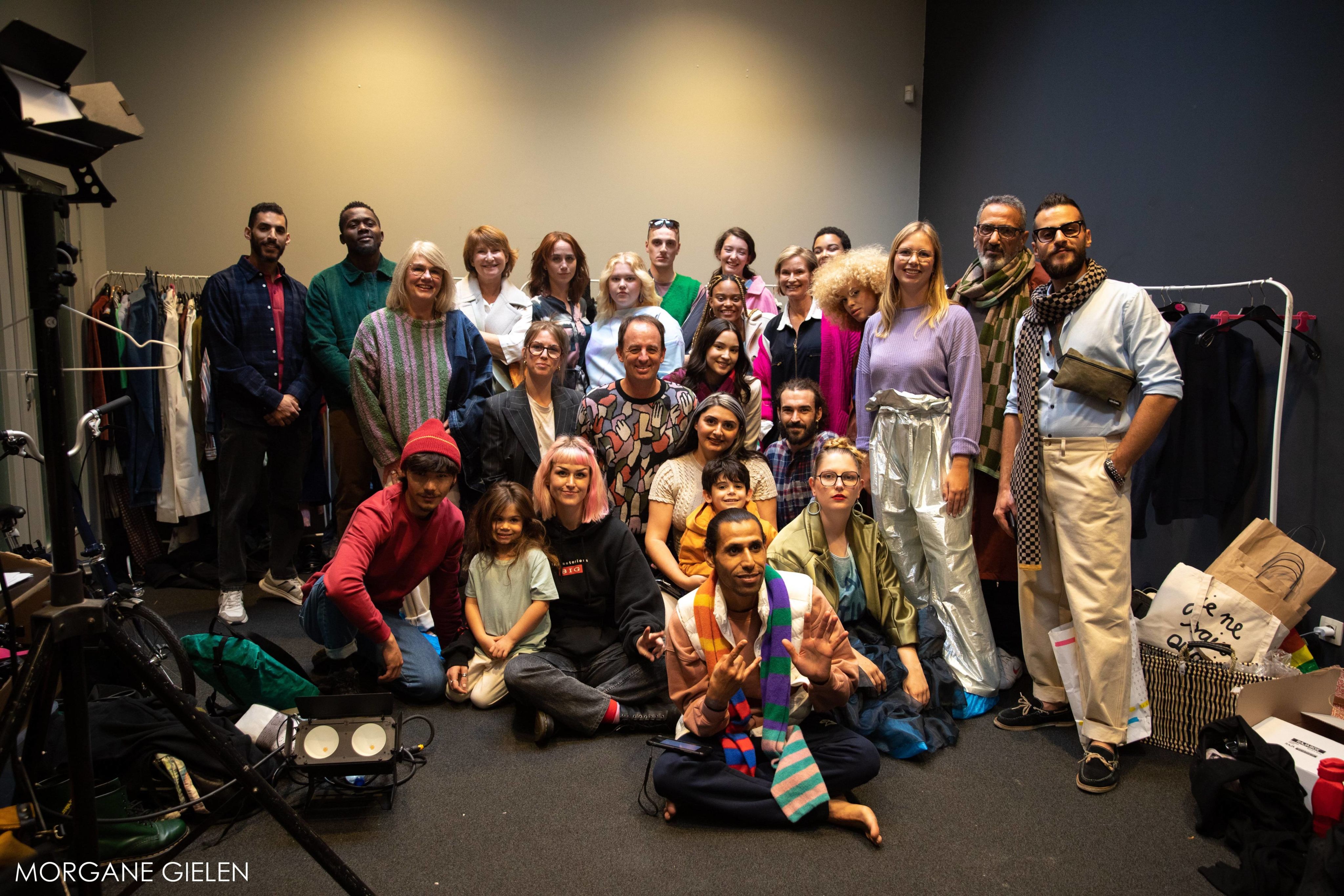 Models at the fair fashion show organised by the Trade for Development Centre
Models at the fair fashion show organised by the Trade for Development Centre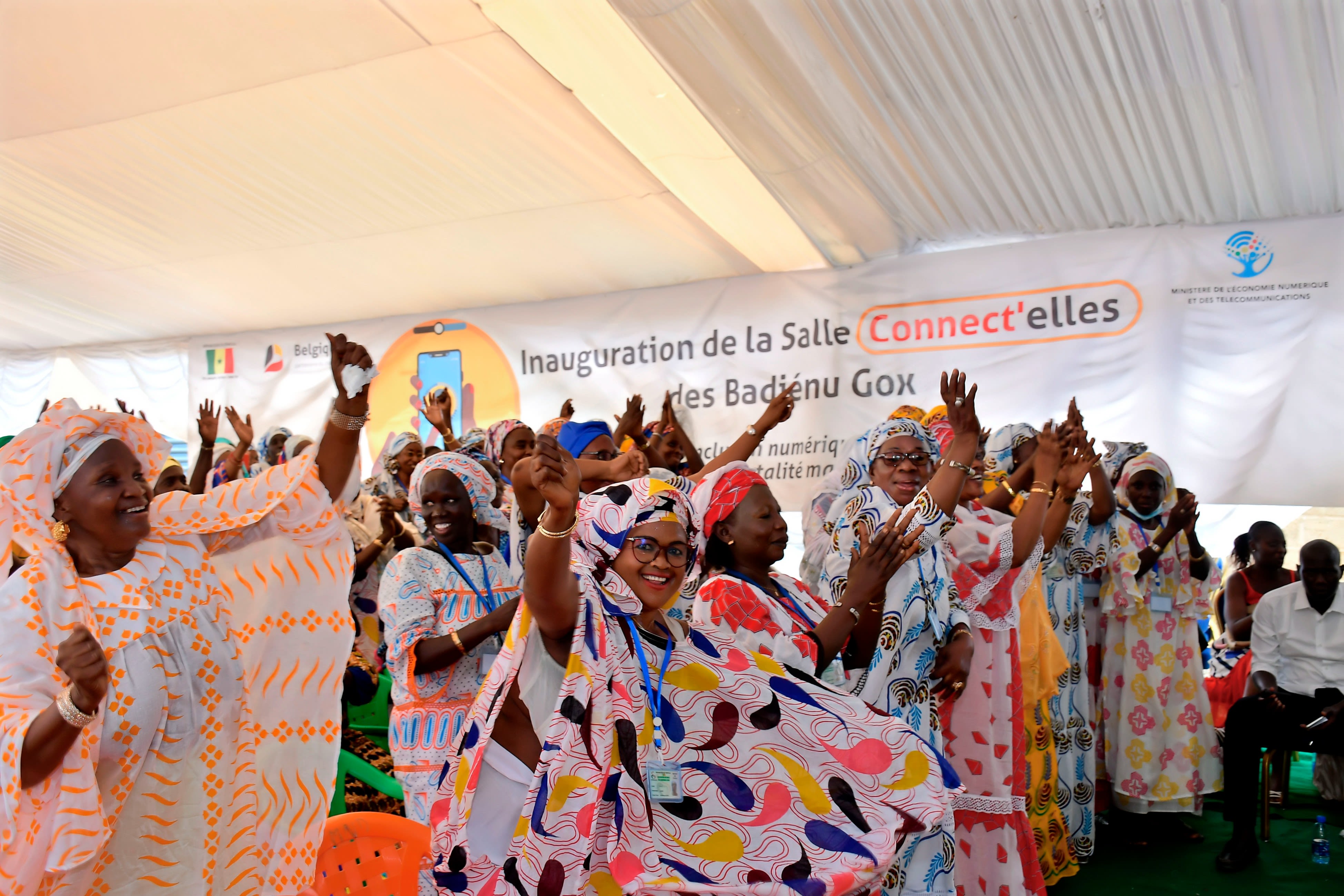 Cheerful community leaders during the inauguration of a digital centre in Senegal
Cheerful community leaders during the inauguration of a digital centre in Senegal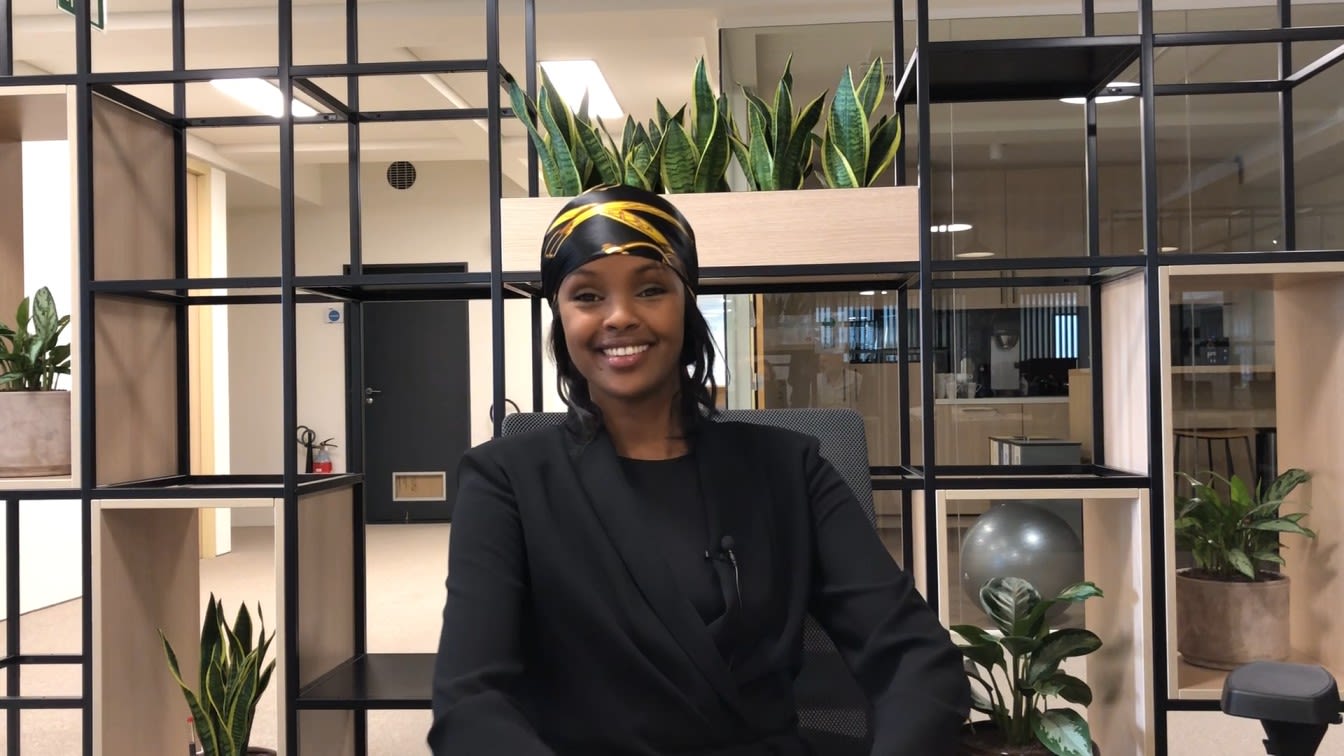 Somali-Canadian social activist Ilwad Elman at Enabel's offices in Brussels
Somali-Canadian social activist Ilwad Elman at Enabel's offices in Brussels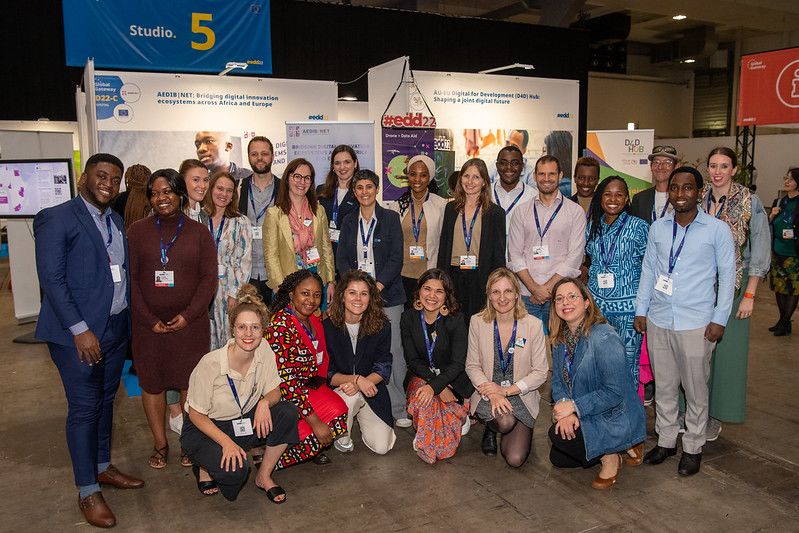 The D4DHub stand at the European Development Days
The D4DHub stand at the European Development Days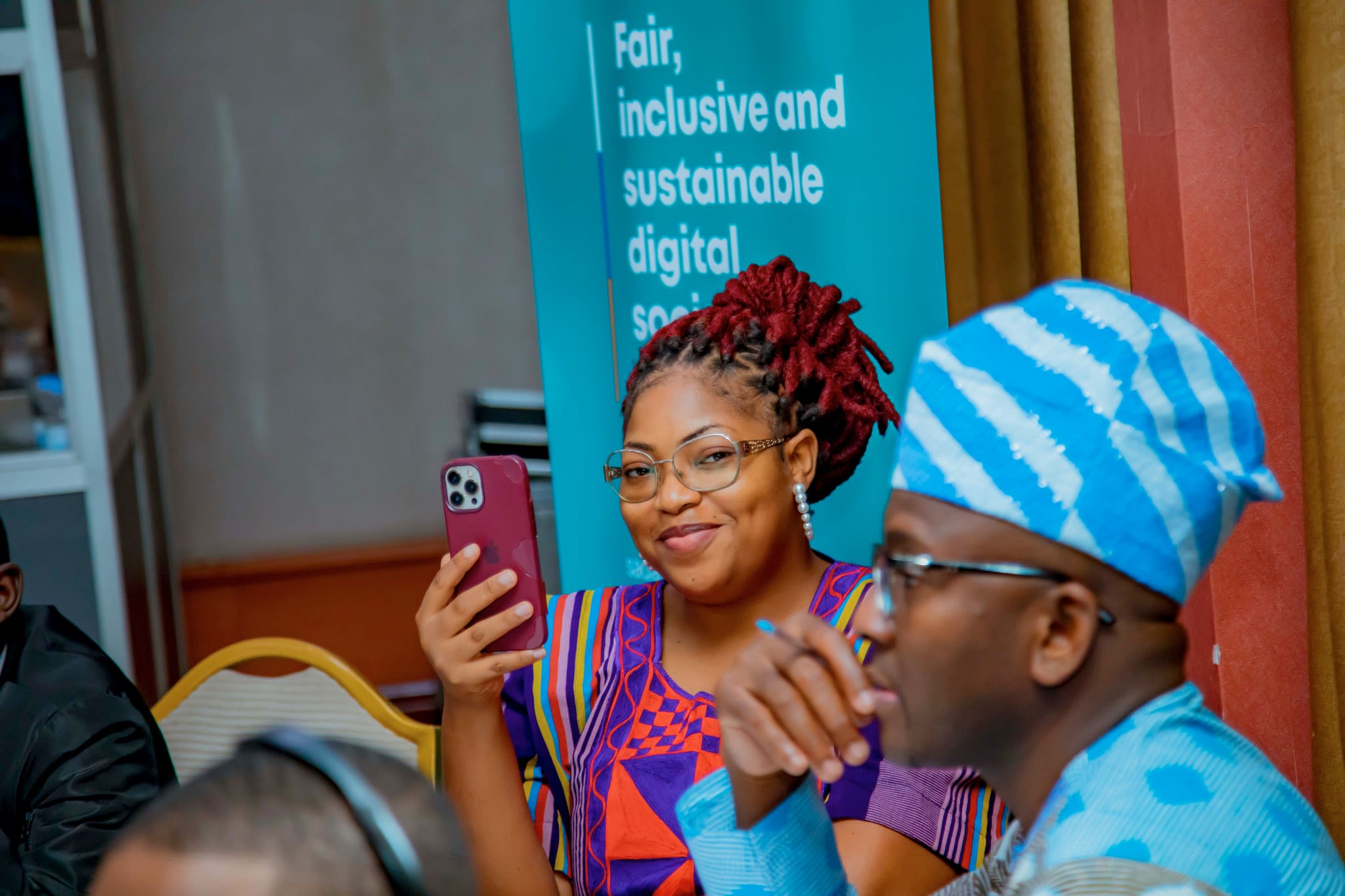 Entrepreneur Ayodélé Ognin in training in Cotonou, Benin
Entrepreneur Ayodélé Ognin in training in Cotonou, Benin
It's not over yet! The full activity report is available on our website:
Subscribe to our newsletter and receive monthly updates on our work:
Photo credits: Isabel Corthier, Sam Deckers, Colin Delfosse, Tim Dirven, Elias Halabi, Thomas Hansenne, Kristof Vadino
© Enabel